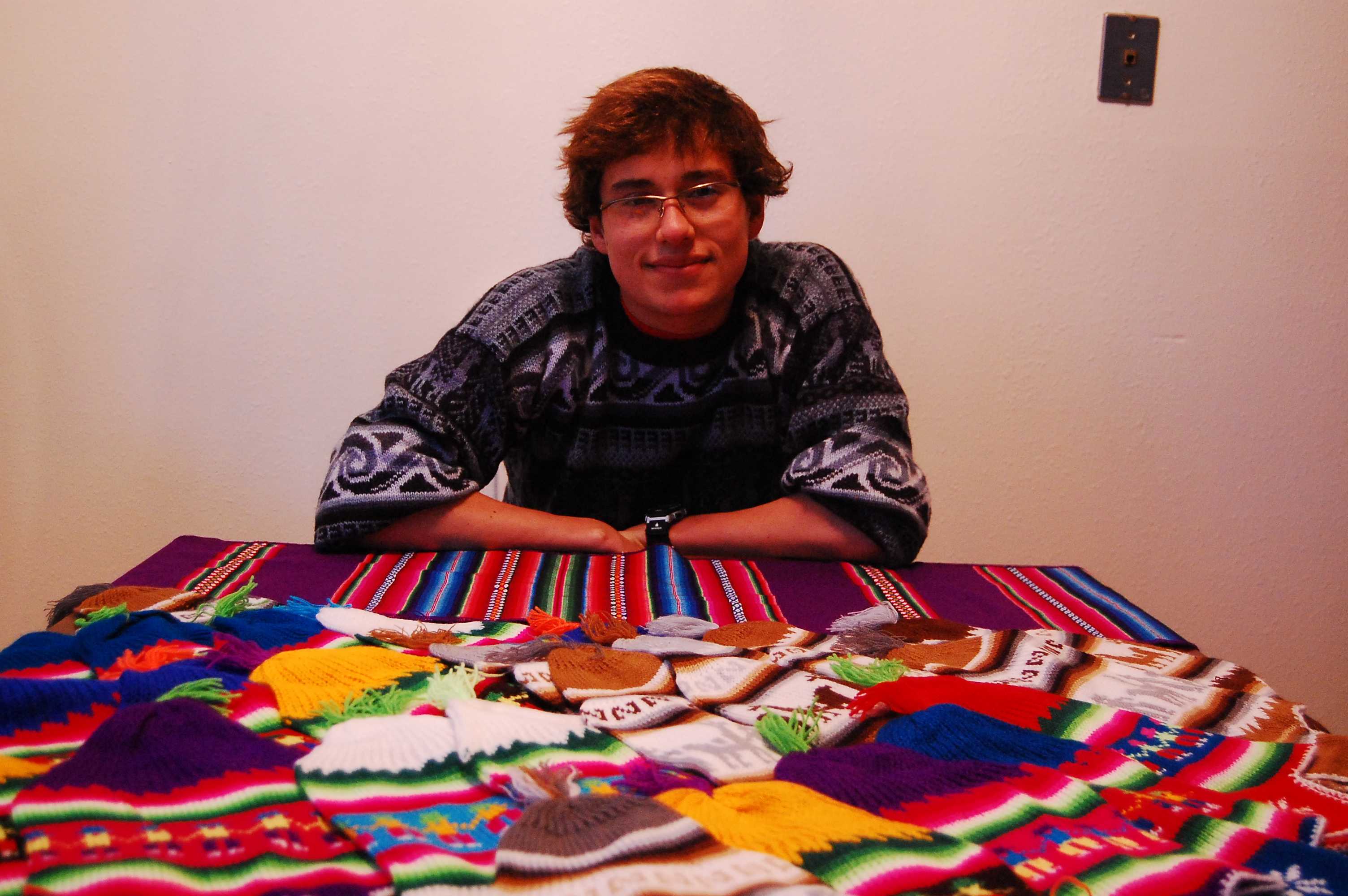 Story by Rupa Owen
Photo by Anna Shepherd
In his A.P. government class at Grant High School, senior Diego Barragan notes the significant differences between schools in the United States and those in his hometown of La Paz, Bolivia. Most public schools there are set in rural areas with one teacher assigned to teach multiple grades in a single classroom of a dirty, old building. Subjects such as government are not even taught, and there are minimal requirements to be a teacher. Even the current president of Bolivia never had a high school education.
Barragan, like many immigrants to the United States, takes his schooling seriously. "The education I'll have is a tool I can use to go down there and help," he says.
But he's not going to sit by and wait to help his country. For the second time, the first being his freshman year, Barragan plans to sell wool hats purchased directly from Bolivia as his product in the annual Grant Trade Show. "If I get the hats there, then I'm helping them," he says. "It's not much but it's little baby steps. I feel that by starting small, I can little by little make progress."
Barragan's mom, Lily Caputo recalls the political situation her home country faces. A situation in which a very defined class system is in place, where the lower class is highly uneducated and oppressed by the upper class. Even when new parties gain power they leave behind broken promises of fixed roads and better education.
"Ever since I was a child, I have seen the situation repeat itself over and over again," she says. "Although our country is rich in resources, opportunities have been lost when the money is not invested back in the country."
In 2009 Barragan, then a 15-year-old, made a tough decision: He moved here with his mother and her new American husband, leaving his father behind, and his sister to study in Germany. It was a tough adjustment. He faced a language barrier, a new culture and difficulty making new friends, though. He had been in the states only six months but Barragan missed his home dearly. He returned to Bolivia for a visit. When he saw his dad, he thought about moving back with him.
But at the time, he had the school year to finish and that included finding a product to sell at the trade show. Barragan wanted to choose a product he identified with that would introduce some of his own culture to Grant. He came up with the idea about hats.
This year, Barragan has added Allen Chan as his project partner. "Allen was actually my first friend," Barragan
admits. On their first day of school as freshmen, neither of them really spoke to anyone else. Barragan says he remembers that when it came time to take their school photos, Chan was the only one who seemed to have a friendly face.
Over winter break during his visit to see his father, Barragan bartered a customized look from some of the makers of the hats. Unable to rely on the luxury of a phone or online-ordering, he had to go the makers themselves to see if they could do it.
"There are these woman called cholitas who sit in the street early in the morning, around five to nine," Barragan said. "I had to go to them and talk to them about making the hats. You have to trade and deal. In Bolivia, if you went to the market and wanted something, then you just dealt with them."
His first time selling the hats, Barragan sold around fifty hats. This year, he plans to sell closer to a hundred.
Although unsure of what college he will choose to attend in the fall, there is no doubt in Barragan's mind that after completing his education he will return to Bolivia.
"Moving to America has helped me grow up and realize things, like what I took for granted. . . . I definitely want to go and give back to my country. But I'm starting small with these hats."