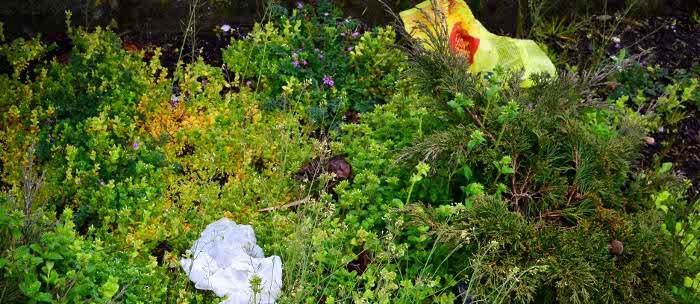 Story by Emma Decker
Photos by Jonathan Schell and Lauren Ogard
It's 7:50 a.m. and the stream of cars rolling in starts. Doors slam and bike brakes screech as kids dodge cars and each other as the daily choreography of Grant High School students racing against the bell plays out. The neighborhood comes alive with students who – by the end of the day – will leave school educationally fulfilled. They'll also leave the campus and the surrounding neighborhood strewn with litter.
What kind of footprint do about 1,600 teenagers leave on a neighborhood? Grant is known for its academic excellence, high-ranking sports teams, and – unfortunately –  the trail of trash students leave before, during and after school. Whether it's on their way back from an off-campus lunch or after play rehearsal or a sports practice, Grant students dispose of their garbage on a nearby lawn, bush or street corner instead of using any of the numerous trash cans placed around the neighborhood.
"The garbage is probably the biggest issue," and always has been, says Grant neighbor Jim Cathcart.
Administrators at Grant constantly hear from neighbors about the garbage problem. They've used it to shape lesson plans around student responsibility. They've ordered students out after lunch to pick up the neighborhood. They've advocated for more garbage cans to be placed on along the most frequented lunch routes.
Vice principal Brian Chatard has seen the issue play out for years. "It's our responsibility to have our parents and our students to see it as a problem and come up with solutions," he says.
The recent policy change of keeping freshman on campus during lunch has lessened the impact, but not enough. Grant's proximity to food and the proclivity of students to use the neighborhood as their personal garbage disposal has only led to a continuation of the problem.
When Grant High School first opened in 1924, living near the school was a huge bonus for homebuyers in the area.  A 1922 advertisement from The Oregonian called houses near the school "without a doubt the best buy in the city today." People purchased those properties for $595 to $603. Now houses in the area fetch prices of about $400,000 and higher.
Old time Portlanders were attracted to the spacious lots with charming bungalows, and the idea of living next to a lush park with a brand new school. But as the population of the neighborhood and the school began to grow, so did the trash. Today, the greatest challenge facing homeowners isn't whether the sidewalk has been built yet, but the amount of garbage that litters the area.
Local realtor Billy Grippo, who has been selling homes in the Grant neighborhood since 1992, says the attraction of being next to a high school hasn't changed much over the years. He notes that with all of the traffic and noise that come with living near a high school, "a lot of people understand that they may get a better value and more house for their money."
But Grippo concedes that the school can be a repellant for some homebuyers. "They want to be close, but not that close."
At 11:10 a.m., the second mad dash of the day begins as students set out on foot in search of lunch. Droves of teenagers comb the local neighborhood food hotspots like ants at a picnic. They leave trails of lunch-packaging in their wake. Empty cups of soda sit atop fences or in the middle of traffic islands. Students can't be bothered to stop and pick up receipts or wrappers that fall to the ground. And it's not uncommon to see cars filled with students return to the school, park and then proceed to empty the trash from seats onto the parking strip.
A quick snapshot of a recent lunch shows the extent of the problem as students rid themselves of their waste burdens in the empty bed of a neighbor's pickup. Another student places trash in a shrub. Someone tosses their crumpled garbage into an already overflowing can. The trash bounces off the rim and into the street where it becomes a soggy mess.
Chatard and other administrators say they make a point to talk to freshmen during the first weeks of school about garbage and being respectful to the neighbors. But it doesn't always sink in.
Neighbors are conflicted. Jim and Karen Cathcart have lived next to Grant for seven years and had three kids graduate from the school. They love the neighborhood, saying there are upsides and drawbacks to all neighborhoods.
Their house sits on the high-traffic trail that students take to McDonald's, Starbucks and My Canh for lunch. "This is the spot where they've finished eating, and they stick (their garbage) in our bushes," Karen Cathcart says, pointing to a hedge in their yard. Sometimes, "they throw it over the bushes. They just drop it on the sidewalk and it's just all over."
Although the piles of soggy trash stuck to the sidewalk no longer come as a shock to the Cathcarts, they've reached a tipping point a few times. "I have one memory where it was getting pretty bad and we were to the point of bagging it up and throwing it on the principal's desk just to get the point across," Jim Cathcarts says, noting that he never did it.
Even though some neighbors set out empty containers specifically for kids' trash, most never makes it in.
"It's pretty obvious that they're not looking for a trash receptacle," says neighbor George Gilley, "because you see everything from fried rice containers to Subway and McDonald's."
Gilley – who walks his dog in the neighborhood at least two times a day – sees drink containers, food and wrappers discarded randomly along his route. He says it's hard for him to understand the thought process when it comes to garbage. "Why is it so difficult to carry the wrapper just a little bit further rather than just throw it on the street or sidewalk?" he wonders.
Gilley relates the effect of garbage on the neighborhood to Malcolm Gladwell's book The Tipping Point, which discusses the fact that in New York City when graffiti is ignored, it only gets worse. "The tipping point," says Gilley about Grant and its garbage, "has almost become a metaphor in American speech for letting things go and not paying attention when you should."
For a school that is so revered by neighbors, it's sometimes hard to understand why students disregard their surroundings. "What bothers me is that it's disrespectful for a community that you go to school in," says Karen Cathcart. "You need to have respect for other people's property. Don't throw garbage on the ground; not in front of your own house or anybody else's."
While the lunchtime excursions benefit local businesses, even their operators take notice and wonder why students don't make more of an effort. George Garcia has been the manager of the McDonald's at Northeast 39th Avenue and Tillamook Street for three years. He says he brings on more staff during the weekday lunch rush because of the large flow of students.
Garcia sees that a lot of the garbage on residents' lawns sports the iconic red and yellow McDonald's logo, but he says the restaurant itself is also a victim of disrespect. "I don't think they know what a garbage can is," he says. "We literally have to go and clean outside at lunch time and after school because they just toss everything anywhere they want to."
At 3:05, the pace changes and the neighborhood relaxes as students reach the end of the school day. The wave of cars returns to pick up students headed home. Others make their way to the locker rooms for sports or other after-school activities.
Even though the Cathcart children have all graduated, Jim and Karen remain supportive of the school and its many activities. Jim Cathcart stresses that the school can't afford to take the neighborhood for granted. In the long run, the relationship needs to be symbiotic. "The health of the school will depend on the health of the neighborhood," he says.
A healthy school is a school where students are proud to attend, and Grant leaders always talk about showing General pride. But what kind of Grant spirit is being showcased when students don't pick up after themselves?
Chatard sympathizes with the neighbors. "It's not just some kids who know better not to litter," he says. "Everybody knows better."