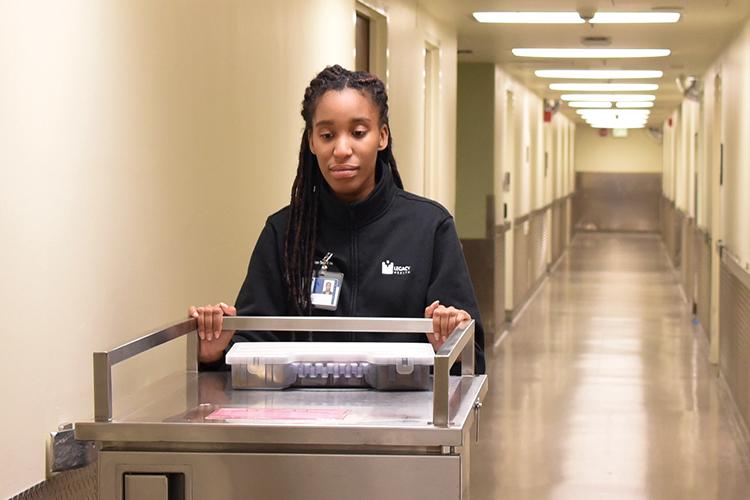 Dressed in black pants and a Legacy Emanuel zip-up fleece, Faith Scott begins her six-hour shift on a recent Sunday afternoon.
In the long basement hallway of Legacy Emanuel Medical Center, the Grant High senior gets a cart stacked with 12 meals and begins delivering them to patients' rooms in both Emanuel and the nearby affiliated Randall Children's Hospital.
Delivering meals is just one of the many roles she plays at the hospitals, where she began working eight months ago. "What I know now is that she loves to work," says her mother, Cammie Richey, who runs a daycare business out of their home.
Scott, 17, is one of 13 Grant students with disabilities or emotional issues who make up the school's Youth Transition Program. It's a program designed to help set students on a new course toward employment or college.
She's had to overcome a variety of health problems, including anxiety and depression. With help from the program, she's found solace assisting others in need. And she's discovered how to thrive in school while working through her emotional health issues.           
"With all that I've been through, being born with physical issues and growing up with emotional issues, I think the best thing that helped me the most was having a support system and not feeling alone," says Scott. "YTP has been a support system for me in many different areas."
"Just growing up and seeing my mom help people and take care of their kids, and then with my health problems as well, and just going to counseling made me want to do that for somebody" – Faith Scott
Born on Feb. 20, 1999, Scott was two months premature and weighed in at just 2 pounds, 2 ounces. She was born with macrostomia, a condition where the muscles connecting the cheeks and chin around the mouth don't fuse correctly, resulting in an elongated mouth.
She spent eight weeks in the Intensive Care Unit at Emanuel where she was hooked up to a Continuous Positive Airway Pressure machine. Known as CPAP, the machine helped her breathe.
At 8 months old, Scott had her first surgery to help correct her macrostomia.
Richey gave her the name "Faith" for her ability to fight for her life. "She died in my arms twice. I had to give her mouth to mouth before the paramedics got there," says Richey. "She's my miracle child."
Those first few years were difficult for Scott and her mother. The young girl had to spend another five months using a CPAP machine until she was able to breathe on her own.
Richey didn't have anyone who could watch her baby if she had to leave the house for work, so she began a daycare business out of her home.
Growing up, Scott spent a lot of time in hospitals and doctors' offices. She had to be seen for her macrostomia, she had asthma and over time she had developed some leg and back problems.
From a young age, Scott says she wanted to be a pediatrician when she was older. "Just growing up and seeing my mom help people and take care of their kids," she says. "And then with my health problems as well, and just going to counseling made me want to do that for somebody."
When she was younger, Scott was quiet and shy. She went to Arthur Academy on Rocky Butte for preschool and kindergarten and later attended City Christian Schools through elementary and middle school.
Richey says her daughter tried different activities, ranging from gymnastics and piano to basketball and chess. But in the end, she chose reading as her favorite. When she was younger, her mom advocated for her to read at least 30 minutes a day.
"When I first started, it was kind of like a drag," she says. "But when I found books that I actually liked, then it just kind of stuck."
As she grew older, her mom's daycare business quickly grew to three locations, and now Scott's home is a 24-hour location. Kids come and go at all hours. With up to 16 kids in the home at all times, ranging from infants to middle schoolers, life is always busy.
But for Scott, it's normal. "It can be chaotic just having kids in and out, but I don't know anything else," she says. "I'm used to it."
She spent a semester at Jefferson High School but yearned for the feel of the small schools she had attended as a kid. She transferred to De La Salle North Catholic High School.
There, her workload grew more intense because the school required her to start an internship with the Blazers Boys and Girls Club. With one day each week dedicated to her internship, it became difficult for Scott to stay on top of her schoolwork, and her anxieties grew.
"I just couldn't keep up with the pace, so I didn't really like it that much," she says.
For a few months, she was in and out of school, and her grades began to drop. She began taking night school and summer school to complete the credits where she'd fallen behind. When she decided De La Salle wasn't a good fit for her, she switched to Grant for her sophomore year.
The transition triggered more anxieties for Scott. She was nervous about starting at her third high school in two years and worried about getting to know a new system. "I was already having anxiety about moving schools, so it all kind of came on at once," says Scott.
"With me, if I get anxious about something, like my whole mind just kind of shuts down, and I become distant, and then I get depressed," she says. "Especially when a class is hard for me. For some reason, I'll get anxious about it. I just stop completely trying because I didn't know how to handle it."
During her second semester, she remembers fainting during her math class. She visited the School Based Health Center at Grant and began the process of visiting multiple health professionals before she was formally diagnosed with anxiety and depression. After the diagnosis, she was put on an Individualized Education Program.
During her junior year, Youth Transition Program transition specialist Patti Downing came to speak to one of Scott's classes. Downing told students about the program and what it offered.
From the beginning, Scott was hooked. "The first day that I went in to do an orientation to explain what YTP was, she raised her hand and looked at me and said, 'I want to be your first success story,' and she stuck to that," recalls Downing.
"When any of us do a job that we love, it makes a difference in our productivity, our attendance and our attitude. It is the recipe for a positive outcome" – Patti Downing
She says Scott was and continues to be diligent about coming to meetings, checking in and doing the necessary paperwork.
The Oregon Youth Transition Program started in 1990 as a partnership between the state's Department of Education, the Office of Vocational Rehabilitation and the University of Oregon's College of Education. Students get help to overcome barriers and forge a path toward potential employment and college.
The program has provided services and improved outcomes for more than 25,000 students with disabilities.
In the beginning of the 2015-2016 school year, the program was introduced at Grant because, according to Downing, data showed that a large number of students fell through the cracks once they graduated from high school.
"Maybe they aren't going to do the traditional things that Grant high schoolers do," says Grant Vice Principal KD Parman, who oversees special education. "They have an ability to get some information about different options about things that they can become successful using a different path."
Scott joined Grant's program soon after the start of the year and was the first student on Downing's caseload. The two met multiple times a week during free periods, flex time and after school to create a profile of Scott's strengths and passions. Together, they wrote a résumé and began to look for employment opportunities.
"It showed me how to be independent in a lot of areas, not just in working but just going after what you want," says Scott.
According to Downing, having a job can improve aspects of life beyond the job itself. She says: "When any of us do a job that we love, it makes a difference in our productivity, our attendance and our attitude. It is the recipe for a positive outcome."
By February, Faith finished her application, went through the interview process and got a job at Legacy Emanuel. She wasn't slated to start until the summer, but the hospital needed employees right away.
So for the remainder of the school year, Scott worked after school and on weekends. She says there wasn't time for anything else besides school and work. From the beginning, she worked every day of the week, often only getting a day off after working two weeks straight.
Because Scott was doing so well at her job assembling meal trays in the kitchen, she was then trained in multiple areas to fill in elsewhere when needed. On some days, she transports meal carts or delivers meals directly to patients, and on others, she works serving people in the cafeteria.
Scott's favorite part of her job is interacting with the patients at Randall Children's Hospital. "With the children, you can give them a compliment on their hair and their whole face just lights up," Scott says. "Some of them are really sick, but it's easy to make them happy, so that's probably the nicest part."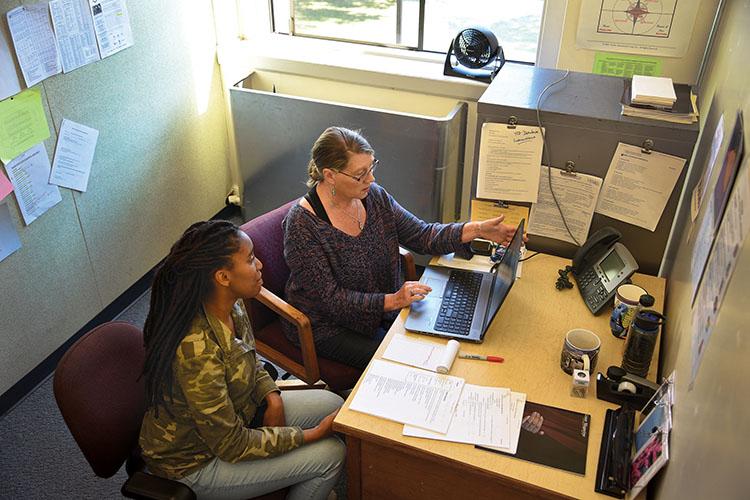 Beyond helping Scott become employed, YTP has provided her with resources in addressing her anxiety and depression. The program pays for her weekly therapy sessions so she can learn how to work on managing her mental health issues. "A lot of things changed," she says. "I had to work on time management because I get anxious about that kind of thing…I had to work on organization and just like responsibility has become strong in the last eight months. Now that I work, I have to pay some bills so that's been a big change for me."
Now, Scott stays busy between finishing high school, working on the weekends and helping her mom out at home.
She hopes to get her associate degree from a community college after high school. Her long-term goal is to get a master's degree in psychology.
Going into psychology has been on her mind since her anxiety and depression worsened a few years ago, but the help she received since has opened her up to it as a potential future career.
"With the depression and anxiety, I didn't know how to handle it at all, and I know what it feels like," says Scott. "I wouldn't want anyone to feel like they don't know how to handle it." ◆