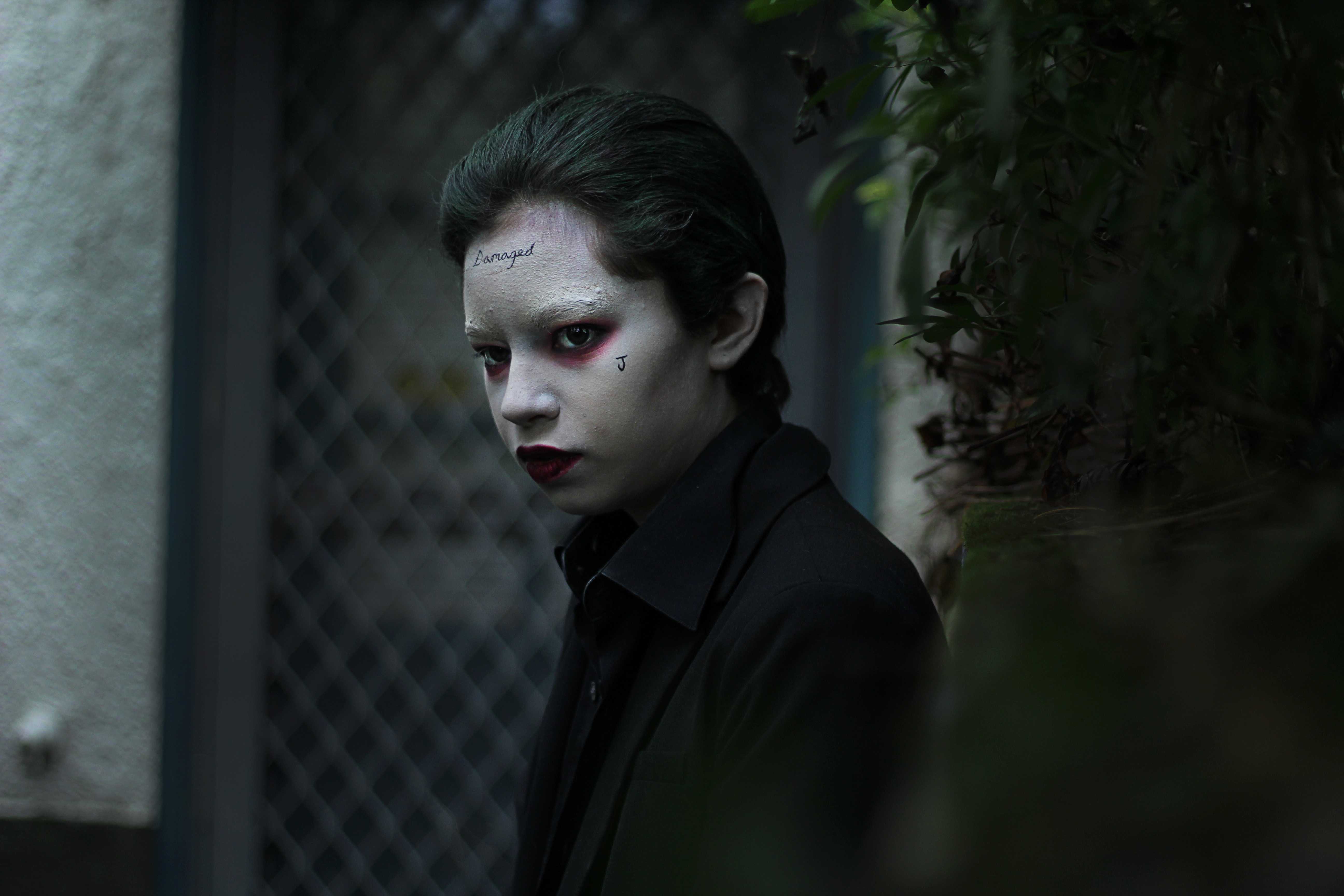 Kira Cruz-Uribe Brown, a Grant High School sophomore, sits quietly on the 7 a.m. bus that's taking her to her friend's house nearby. She walks four blocks from where the bus stops and heads into a faded white house.
It's a Sunday morning, and she's arrived extra early to start the long process of covering her entire body in white paint. In a matter of hours, she has left all remnants of herself behind. Now, she's the Joker, complete with slicked-back green hair, a handmade black jacket and the word "damaged" written in black cursive on her forehead.
Cruz-Uribe Brown's friend, sophomore Annalisa Caso, wears a pink and blue wig and matching eye shadow to pose as her alter ego, Harley Quinn, the Joker's villainous companion. After the two finish the final touches on their costumes, they head out into the cold January air to start filming.
For these students, dressing up in costume isn't just a childhood game or a Halloween tradition. It's cosplay, short for costume play.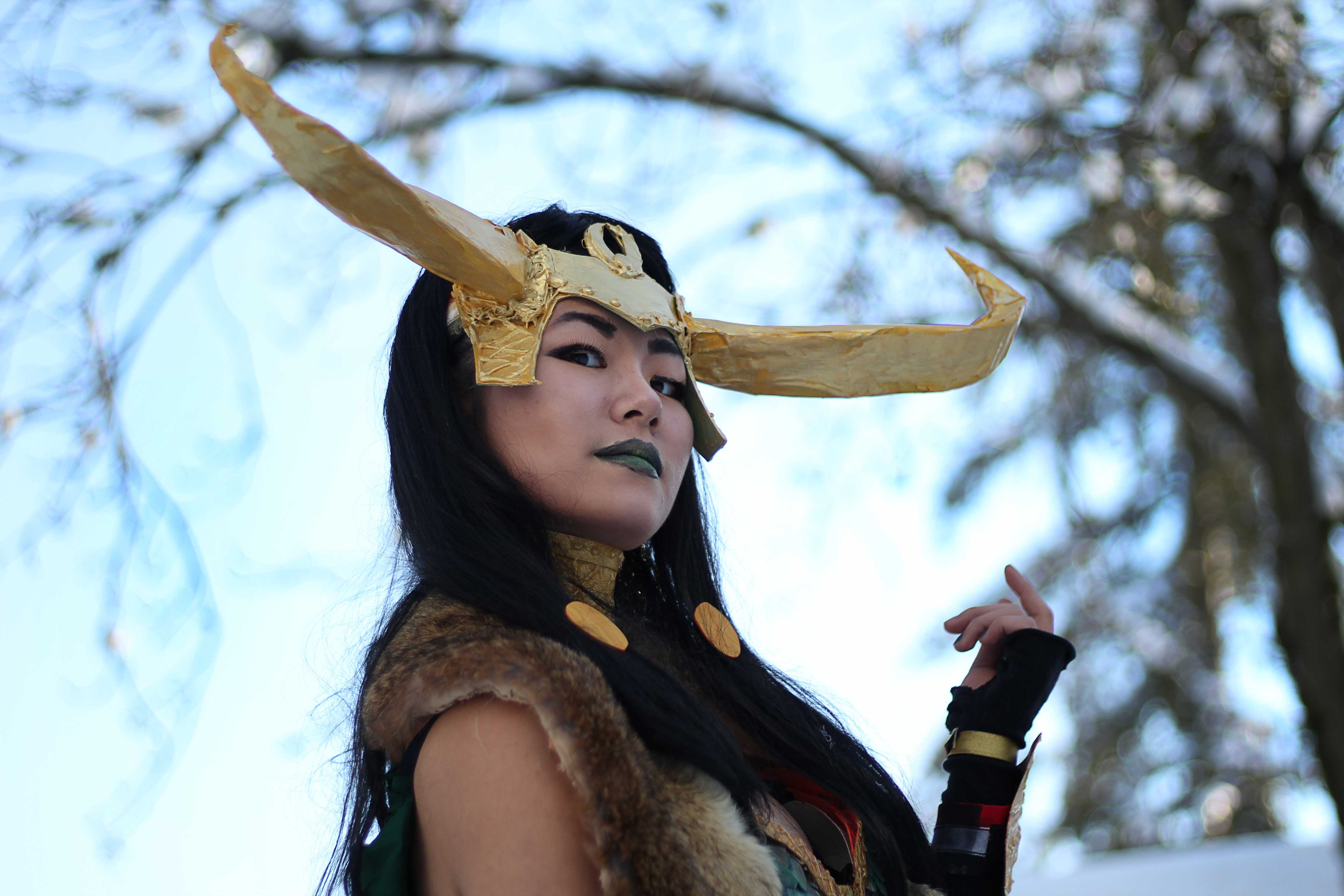 The concept is straightforward: dress up as your favorite fictional character, most commonly a hero or a villain from Marvel, DC Comics or a popular anime show.
But for those who commit themselves to it, cosplay holds a much deeper meaning. By studying the characters' personalities and mimicking their physical features, you don't just step into the role of the character. You become them.
In recent years, the costume craze has been infectious across the United States with conventions – mass gatherings of cosplayers, including celebrity panels and competitions – in every major city. Cosplay now has national tournaments, its own TV show on the Syfy network and hundreds of thousands of participants nationwide.
"Why we are seeing it grow so much is because 'Avengers' can gross $2 billion now. The most popular shows on television can star The Flash and Supergirl. That's the world we are now in," says Mikey Neilson, the director of Rose City Comic Con. "I think since …'nerd culture' has now transitioned into pop culture, that has facilitated this gigantic growth of cosplay."
But more than just donning a costume, cosplay lets people change their personalities for the day and live in someone else's shoes. Caso and Cruz-Uribe Brown say they have gained self-confidence and stepped out of their once-introverted shells because of it.
Together, they do photo shoots, make cosplay videos and even walk the streets of their neighborhood in costume to express themselves. It has become a part of their identity.
"It's gotten to the point where it's my life now, and the feeling of wearing it is the best feeling," Cruz-Uribe Brown says of her costumes. "When it's all done and you are doing your poses … it feels great … It's something I will never get bored of."
Growing up, Cruz-Uribe Brown felt like an outsider. Her parents divorced when she was 3 and both started new families. Her stepfather, a U.S. Navy veteran, was often stationed across the country, and she had to move around with him.
She was forced to juggle life between two houses. Throughout elementary and middle school, she didn't participate in clubs or sports and had no community of her own. She came straight home from school everyday.
"When you say someone's name, they have that one thing that they are known by. But I never had that. I was very bored," she says.
But in seventh grade, after her best friend showed her pictures of a cosplay convention that she had attended, Cruz-Uribe Brown was infatuated. She began spending her days after school scouring the internet for tutorials on cosplay costumes and researching cosplay celebrities.
She developed her own cosplay personality – Princess Bubblegum, a character on the popular cartoon show "Adventure Time." When she put on the green body suit and gold crown for the first time, she remembers how happy she felt.
"(Cosplay) was just finally something I could do and make my own. It was completing," she says. "It felt good to find something that was mine."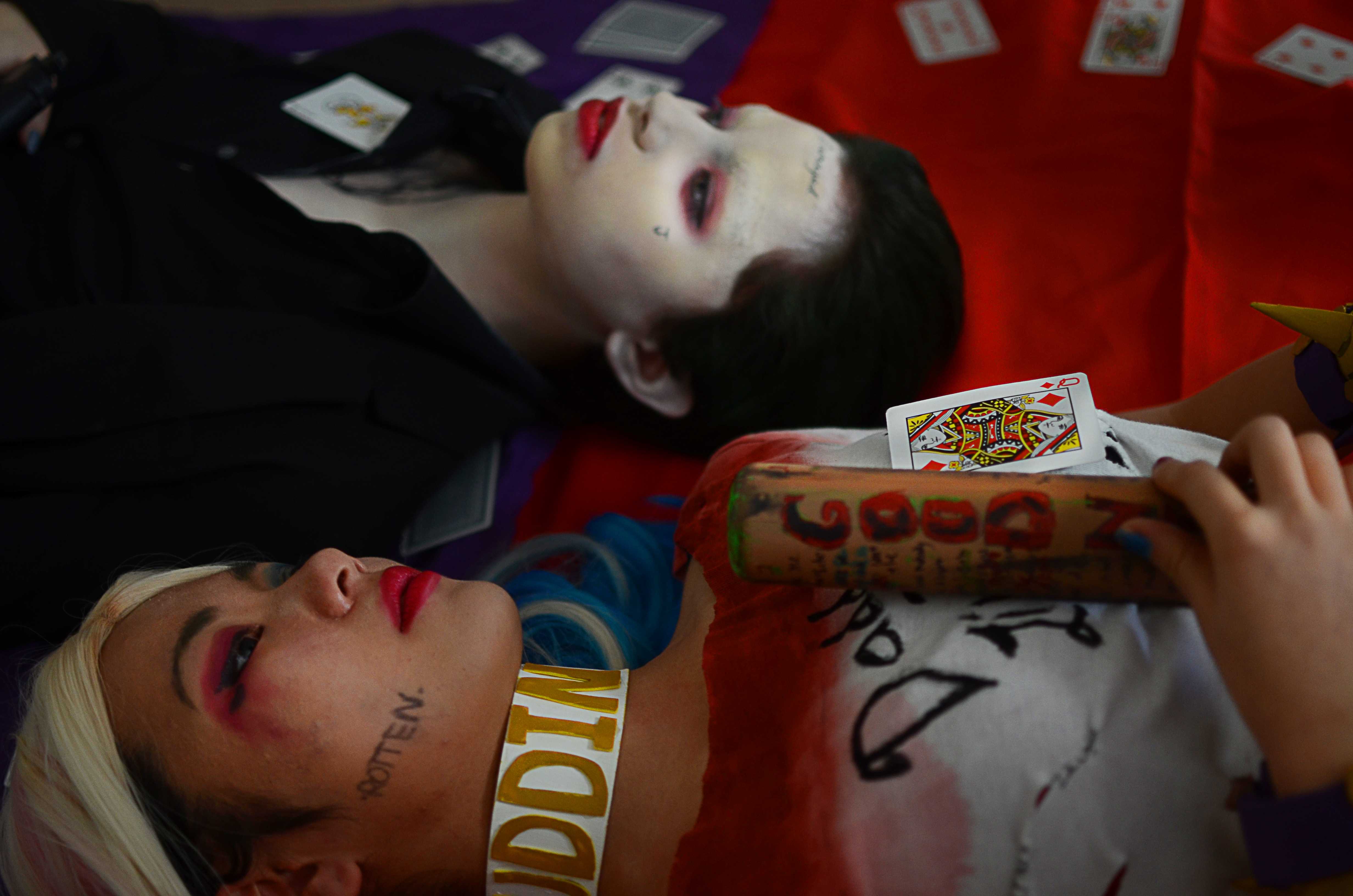 Wearing and obsessing over costumes brought a new light into Cruz-Uribe Brown's life. But it wasn't until she went to a convention in the summer of 2014 that she discovered the best part about doing cosplay.
"At conventions … the more extroverted side comes out, and I am willing to socialize and talk to people that I have never met," she says. "The atmosphere gives me a safe feeling… It's almost like another world."
When Cruz-Uribe Brown steps on to the convention floor, she isn't herself anymore. It is the perfect escape from reality, and the confidence she gains is irreplaceable, she says.
"I am comfortable in cosplay … I know that whatever happens, it will be alright," she says. "I go at everything with a different mindset. More relaxed, more comfortable, less worrying that I'm going to mess up."
Caso had a similar experience. As an introverted child during elementary and middle school, she would sit in the back of class hoping no one would notice her.
Before she found cosplay, she dreaded being called on by the teacher. But at home, hopping into a Barbie or princess costume was her way of expressing herself.
"I suppose in a way, it's like wearing a (mask). You are hiding who you are," she says. "It's just a different side of you …  in a way there is no repercussions when you are in costume with how you are."
In fifth grade, she planned her Halloween costume four months in advance. At the time, she was an avid "Harry Potter" reader, and Bellatrix Lestrange stood out to her as the only notable female villain in the series. She went around the house, collecting bits and pieces from old costumes, searching through closets and using hair paint to get the perfect look.
Later that year, she found a cosplay video while scanning through YouTube and realized she was missing out. She didn't make a cosplay of her own until more than a year later when a friend came over to her house.
Wanting to join in, Caso threw together a costume of a Japanese vocaloid named Gumi Megpoid. The character has red, white and black designs on her face, so Caso used acrylic paint to mimic the look. The designs stuck to her face, and she had to spend hours washing them off, the paint sticking to her skin for days.
But even with the bumpy start, she never slowed down after creating her first cosplay costume. She used her sewing skills, papier-mâché and a hot glue gun to create elaborate designs of colorful masks or golden horns. In her closet today, she has around 50 of her own handmade costumes.
When the two met early last year in an art class at Grant, they knew they had to make something of their shared passion. On top of going to conventions together, they wanted to document their numerous costumes through photo and video.
They are currently working on a music video for the song "Partners in Crime" by Set It Off, in which Caso plays Harley Quinn and Cruz-Uribe Brown plays the Joker. Caso has also written scripts for 11 'CVs,' or cosplay videos, that range from a full rendition of "Percy Jackson and the Olympians" to an "Avengers" themed scene.
The ultimate goal? Reaching cosplay celebrity status on their YouTube channel so national conventions will fly them out to speak on panels. While they know their hopes are high, they don't plan to stop sharing their lifestyle with the world. "Why would you make this detailed beautiful piece of art and not be like, 'I want to show it to someone?'" says Cruz-Uribe Brown.
But whether or not they make it to cosplay stardom, the two are set on doing what they love.
"It's become a part of me. Since I feel more comfortable in cosplay, I am less scared to do more things in it," says Cruz-Uribe Brown. "Going out in public dressed like this, you are comfortable in it, so why worry about it? I am happy in this. When I go out there, why should I not be happy?" ◆