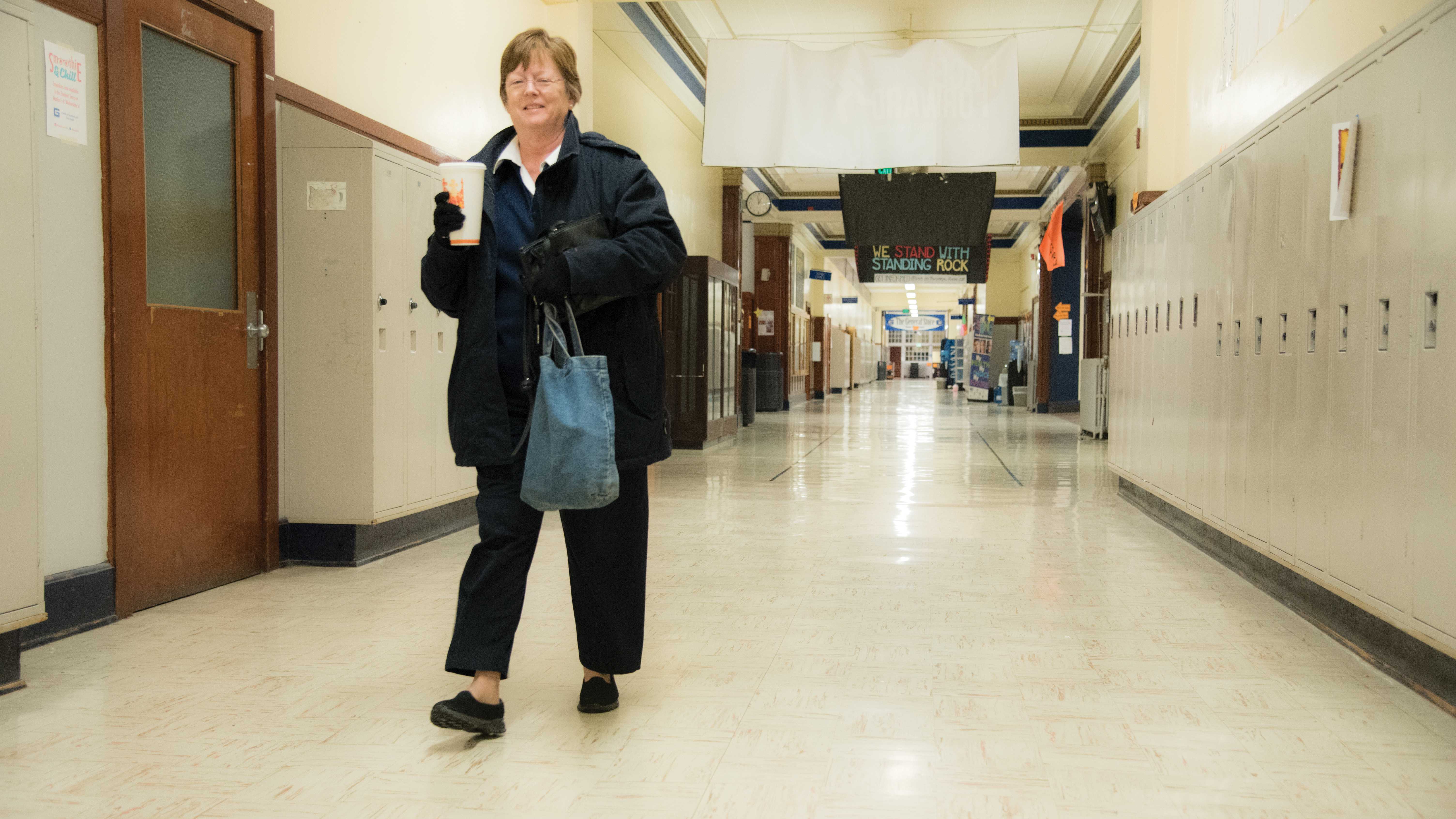 In her volunteer time, Dianne Copper arrives at Grant just before 6:45 a.m. According to chief custodian, Nick Branch she's the second staffer in the building each morning.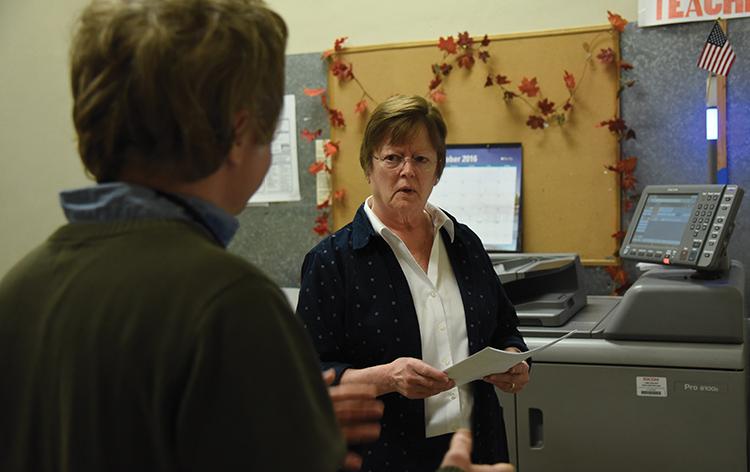 Dianne Copper speaks with a Grant teacher about the specifications for his copies.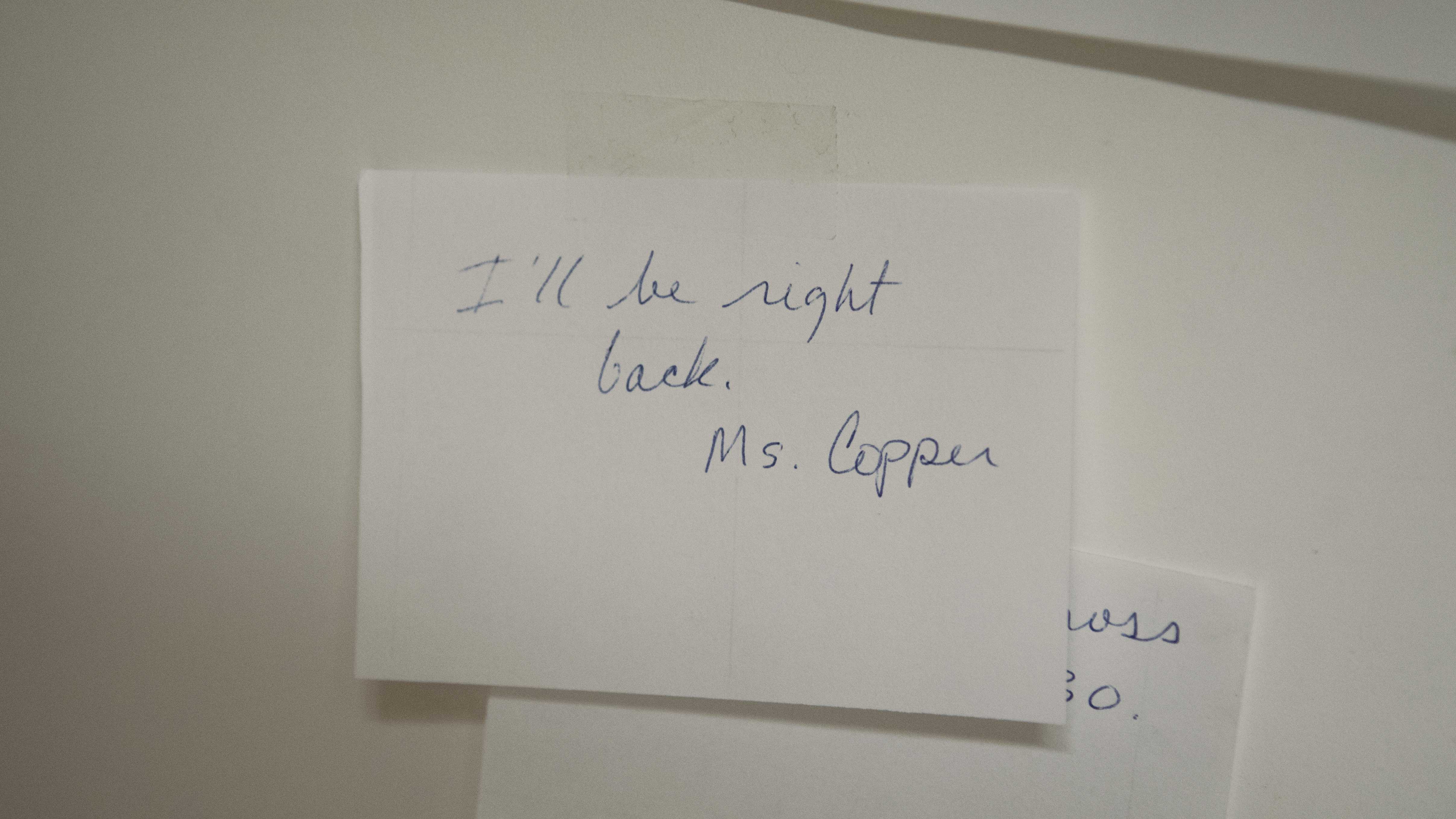 Copper is often out and about delivering teachers copies, but she doesn't forget to leave a note behind.
On a recent Tuesday morning at Grant High School, the sun hasn't risen yet, and the campus is quiet. Dianne Copper walks through the front doors and makes her way to Room 127.
It's a 13-by-14 foot windowless room 20 yards past Center Hall. After unlocking the door, she sets down her lunch tote and sparkling water, takes off her coat and slides the first stack of papers into the tray of a copy machine that starts to hum. It's 6:43 a.m.
Copper, 68, is Grant's "copy lady," in charge of making sure teachers and other staffers have enough copies of schoolwork and other materials each day. It's a volunteer job, one she's held for the past five years after a lengthy career in education.
"I enjoy getting up and doing it, and people are happy to have that done for them," says Copper. "It leaves more time for the teachers to spend more time with their students, and I think that's important."
Her colleagues say Copper goes above and beyond, so much so that they don't consider her a volunteer.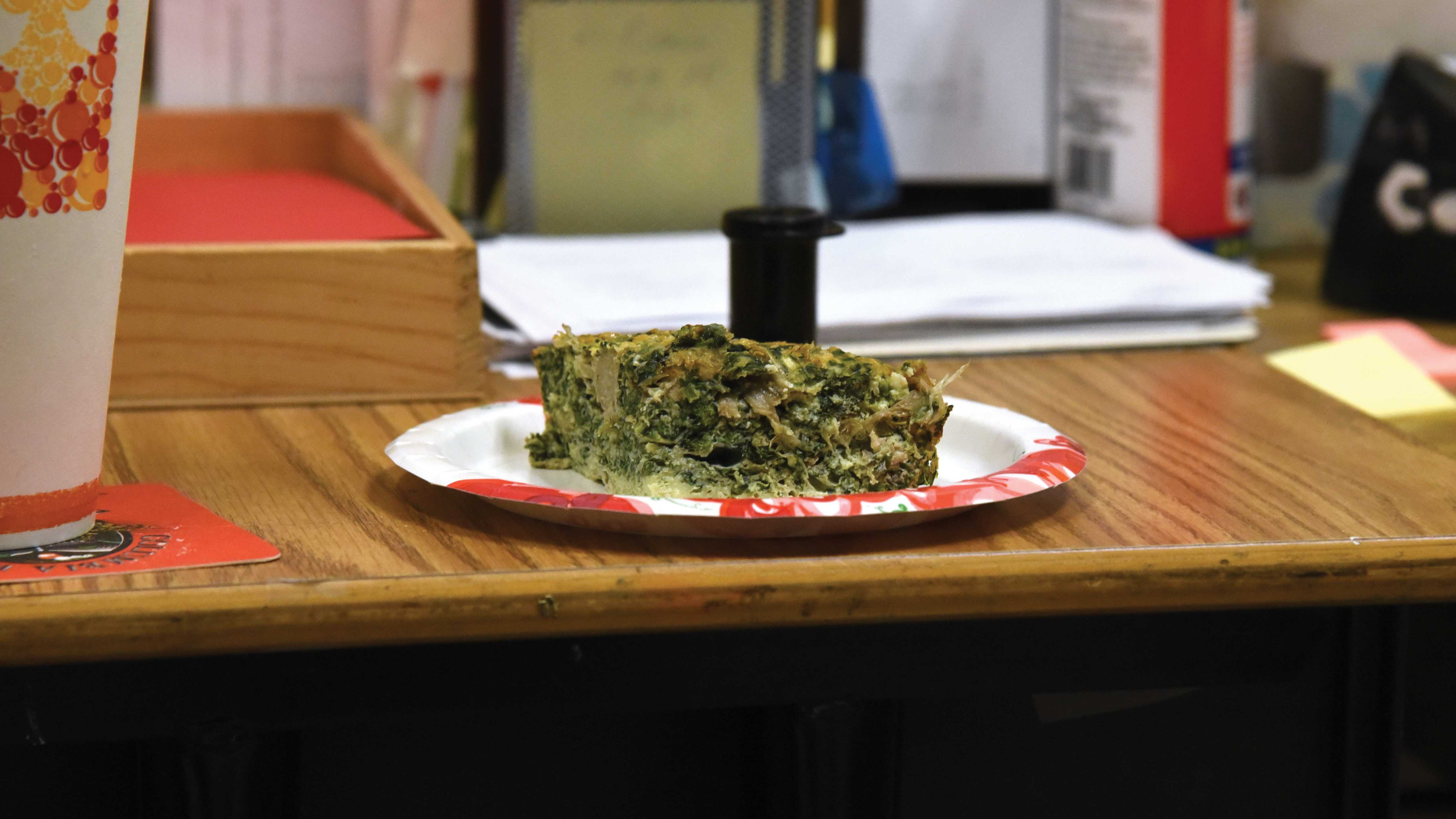 "She's the first staff in the building," says Nick Branch, Grant's chief custodian. "She's always here on the dot. Especially knowing that it's volunteering, she makes me want to work 10 times harder. She comes in, never late, always there."
Principal Carol Campbell says Copper fills a need the school otherwise wouldn't be able to afford. "We are really fortunate because most schools don't have this type of resource," Campbell says. "The fact that she's here and does the copying, it really provides the teachers more time to actually focus on planning and giving kids feedback and getting prepared to teach, as opposed to standing in front of a copy machine."
Copper was born Dianne Mason on June 10, 1948, in Alhambra, Calif. She was the third of four children of Clyde and Ruth Mason. At age 3, the family moved to Bellevue, Wash.
Copper knew from a young age that she wanted to be a teacher. "I would gather up the neighborhood kids during the summer," Copper recalls. "We'd also go for walks, and we'd go down to Lake Washington as a field trip."
At Bellevue High School, Copper took an introductory education course, where she'd spend time at a nearby elementary school working with first graders. "The teacher was absent one day, and the substitute came and said 'I don't know what to do,' and I'd been there enough that I could take the kids through their routine," she remembers. "So I really got to substitute teach without being a teacher, and I really enjoyed it. I knew then that I wanted to be a teacher."
After graduating, Copper spent a year at Central Washington University before transferring to Western Washington University where she studied education. During her junior year, she met her future husband, Bruce Copper, who was also a student there. The two began eating meals together, playing cards in each other's rooms and doing homework.
Bruce was also studying education but ended up pursuing a career in the U.S. Navy instead. While Dianne Copper finished her senior year at Western Washington, Bruce Copper began active duty on Swan Island in Portland.
In 1971, they married at a church in Bellevue. After moving to Norfolk, Va., as part of his naval duties, the couple had a son. Later, they were stationed in Guam.
During the day, Dianne Copper taught at the Little Red Schoolhouse, a preschool for the American and Guamanian kids whose parents worked on the military base. "It was a joy for me," she says now. "Every day, we'd start the day and talk about what day it was and was there anything going on in their (lives). It was really cute."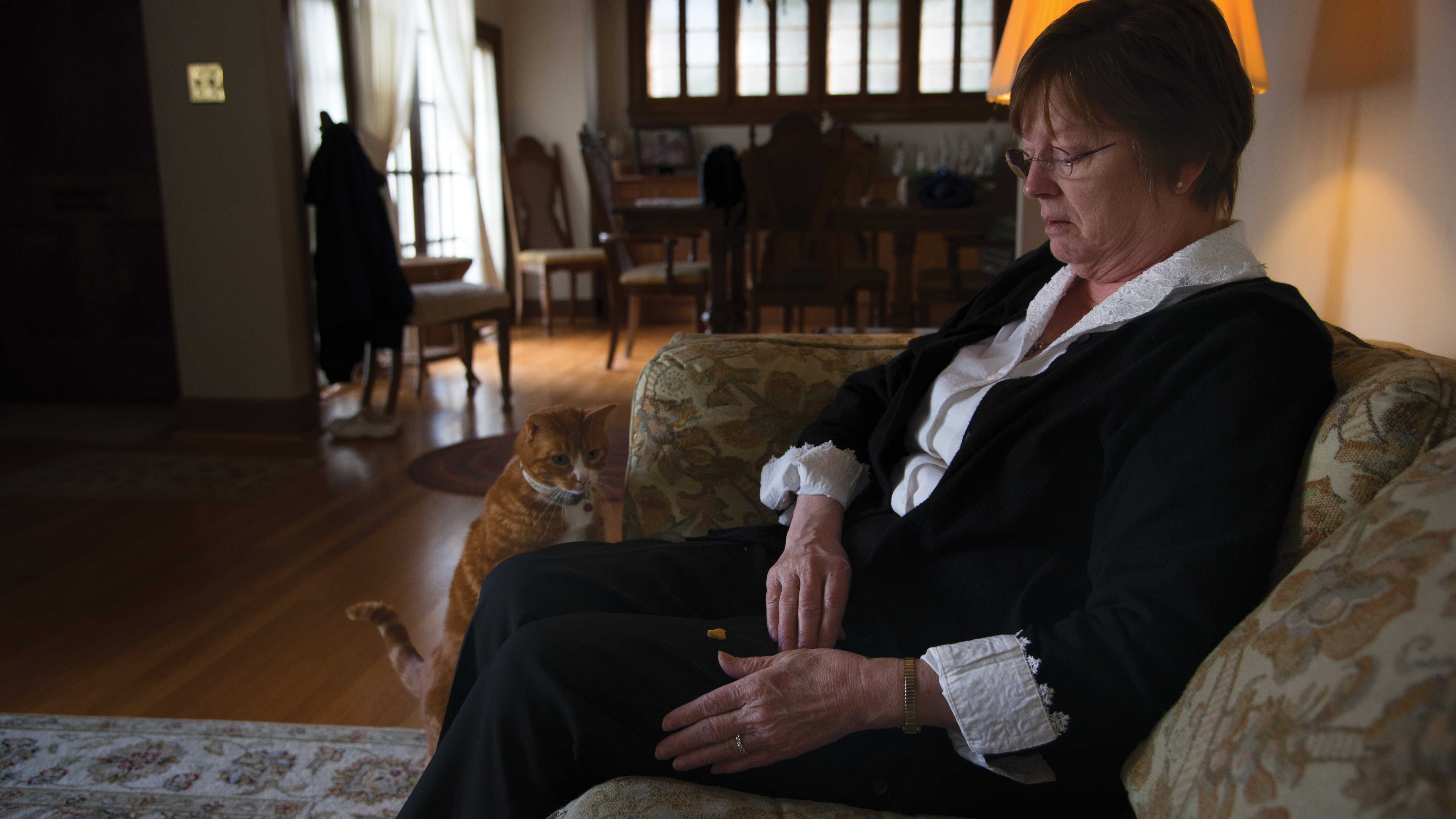 After living in Guam for a year, they moved to San Diego, Bangkok and Singapore before settling back in Norfolk. Just a few months after moving in, Dianne Copper gave birth to her second son. A year later, the Coppers moved to Portland, and she started teaching again.
Her days were busy raising the kids, substituting in Portland Public and David Douglas school districts and taking classes at the University of Portland as she worked toward her master's in history.
At that time, her father-in-law was a teacher at Grant, and he helped her gain name recognition in the community. Soon, Copper was the go-to-gal for substitute teaching at Grant. "I would get up at 5 o'clock and get ready, and I'd lay down in (the living room) and … I'd just wait for the call," says Copper. "I was pretty busy."
She remembers the time when a social studies teacher specifically requested Copper to substitute her class. The previous sub she had used didn't pay attention to her instructions, instead choosing to jump rope with a TV cord in front of the students. "It was nice to kind of have a home school because the kids knew me, and they knew they couldn't get away with anything," says Copper.
By 1981, after four years of classes, Copper earned her master's degree. She continued to substitute across the city, but Grant was always where she felt at home. The kids had gotten to know her, and she felt like she belonged.
In 2011, she retired from substitute teaching, but her time at Grant wasn't over. She started volunteering daily in Grant's special education department and loved it. "You can see their growth," she says. "You can see that a student might not be able to do something, and then you can see them gradually learn the process like addition or subtraction."
During one of the weekly morning staff meetings, Copper noticed the energy in the room was lacking, and not much was getting done. The next meeting, she brought doughnuts to liven things up. To her, the pastries seemed like too heavy of a treat, so she started bringing in homemade quiche.
After two years of volunteering with the special education department, Copper took notice of the amount of jammed paper in the school's printers and the unorganized copies in the copy room. She stepped in to help.
Slowly, she created a system and began her volunteer position making copies. "I was a teacher, and I spent so much time making copies … so one day I just came in, and if it had a name on it, I'd put it in the box," she says. "I thought, I enjoy doing this because people came in, and we talked.
"I got to know a lot of the teachers that I had never had the chance (to meet) before, and I just enjoy it, and it gets me out of bed. I just love it."
She's kept making the quiches out of habit. Now she has her regulars, like Athletic Director Brian Samore, who enjoys a slice each week.
"It is something I look forward to every Wednesday," Samore says. "Sometimes it's with spinach and garlic, and others, it's with spicy sausage and jalapeno. There's a few people that have become big fans of hers, me being one of them. I feel like she's a sister watching over me a little bit."
Copper enjoys interacting with staff and students and hopes she's making their lives easier. "I have candy for students who come and pick up copies for their teachers. I get a smile, and sometimes that's just what somebody needs," she says.
In her time outside of copying, Copper spends her afternoons out to eat at the Portland Seafood Company. She and her husband also enjoy weekends at the coast or traveling to Victoria, British Columbia.
She says she'll keep spending her mornings at Grant for a while longer, even with the move to the Marshall campus next year. Copper is looking forward to what the setup will be like. "It'll be totally different because I don't even know what room I'll be in," she says. "When I was there, the copier was in several places, the big machine moved around, so maybe I'll get a room with windows. Knock on wood." ◆
Grant Magazine Photo Editor Finn Hawley-Blue contributed to this report.