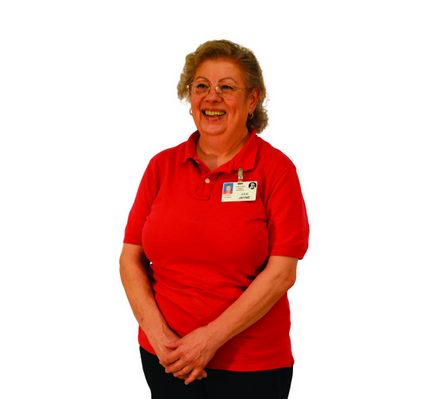 What's your favorite part about your job?
Interacting with the students. Sometimes I know their name because of their food selections.
Why serve food to high school students?
I picked this job because it worked best for my family, it has good benefits and it pays pretty well. I only have to work 174 days a year. As long as the students go to school, I'm in here.
You work the breakfast cart in center hall. What item do you sell the most?
Mostly the hot food item, and that can vary. The hot food item can be waffles, French toast or chicken biscuits. The other thing that sells well is the bagel stick, and the yogurt sells well, too.
What other jobs have you had?
After college, I worked for Sears for a little while. Then I worked for Providence Hospital as a licensed practical nurse. Then I decided to be a stay-at-home mom. But I needed a job. Serving food in a school cafeteria was perfect because then I would have the same hours as my daughter. I worked at various schools in Southeast Portland before coming here.
What was your childhood like?
I was born in North Dakota in a small farm town really close to the Canadian border before I moved to Troutdale at age five. When we were kids, my uncle got out draft horses and hooked them up to the sleigh. There were big brass bells on the horses, so they'd make lots of noise. It was like Norman Rockwell. We also used to visit the Dakotas, where our relatives lived, every winter. We played on our sleigh and threw snowballs. I miss the snow and the farm.
How many kids do you have? Did you ever tell them what she should eat?
I have one daughter named Laura who is now 31 years old. Of course, when she was younger I told her what to eat and I encouraged her to eat well. Sometimes I'd pack the lunch for her and sometimes she'd get food from the cafeteria if she liked what was on the menu on that day. She had her favorites.
I notice you also have student helpers.
They work here every day and they do earn minimum wage. It's a great opportunity.
What's your daily schedule like?
I get up at 4:30 every morning, I drink some coffee, I relax. The commute is usually about 20 minutes. I get in at about 6:20 because I have to be ready to serve breakfast at 7:30. When I get done serving breakfast at 8:15, I have to start preparing lunch. It takes time to fix and cook this stuff. This year, they decided we're also preparing Hollyrood's lunches. On Thursdays, when they have "pizza days," it's an extra 100 meals we have to make.
Have you seen any change with the food in the 25 years you've worked here?
Yes. When I started here, we were making cinnamon rolls. We had a deep fryer that we made French Fries and jojos with. We had a milkshake machine and we also made chef's salads. Everybody ate in the cafeteria. Now only about 200 of 1,500 some students eat in the cafeteria. If the whole school came down here, we couldn't feed everyone or seat everyone. The menu has varied, too, and now it's limited because of the federal government guideline changes.
What are the changes?
It's more technical than you'd think. Michelle Obama has been promoting nutrition in schools. They promote one "harvest of the month." Last month, we had Hermiston watermelon. We've also had cauliflower.
Do you ever take days off?
I've had perfect attendance for at least ten years, and that's something I strive for. I may have taken off a few days for my daughter's wedding. Things do run more smoothly when the regular person is working.
What do you do in your free time?
I like to do gardening and yard work. It's relaxing. I grow flowers and some blueberries, but mostly in pots.♦
Check out the rest of our Time With interviews for more brief snapshots of Grant community members.