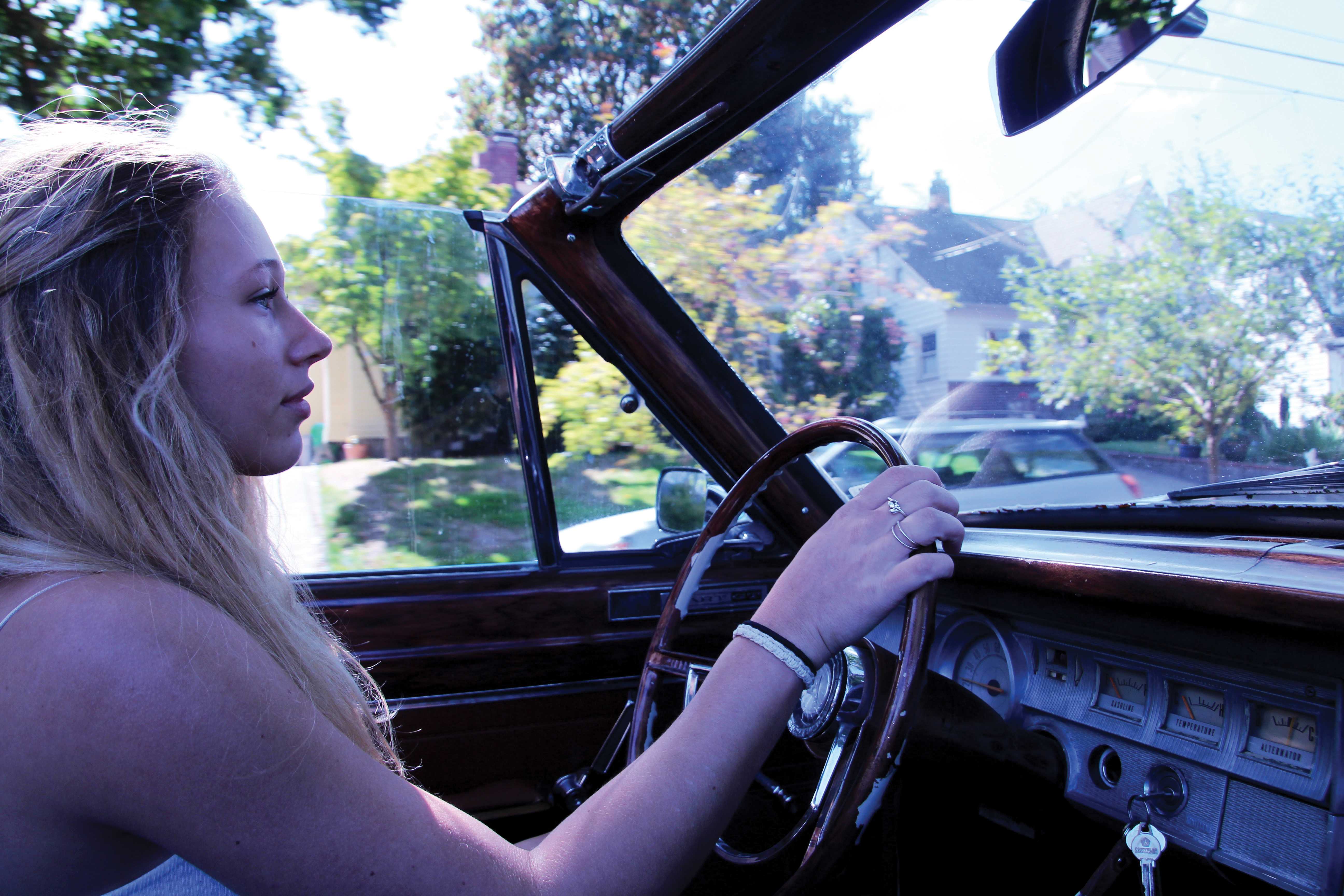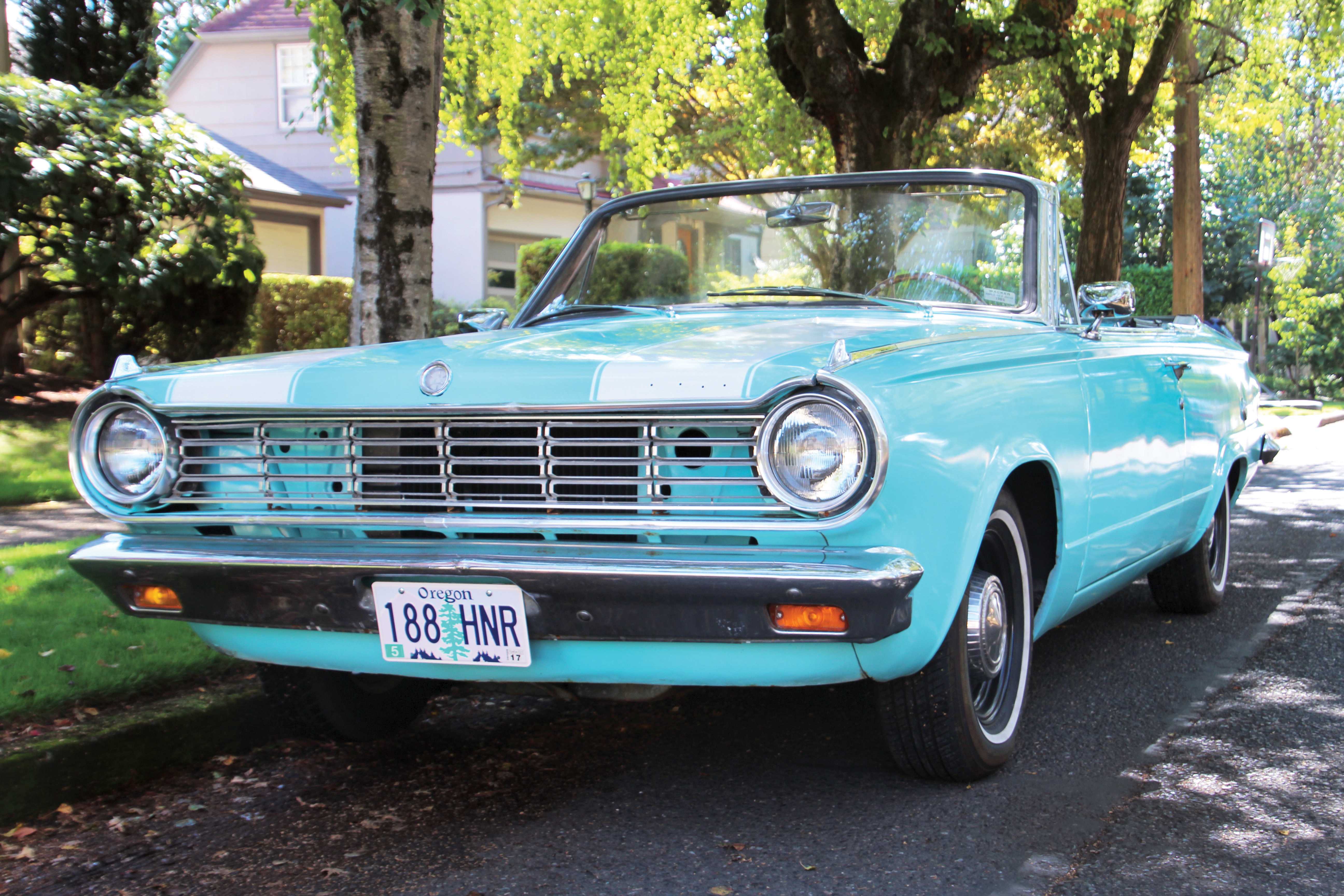 Sage Roland, 16
Year: junior
Model: 1965 Dodge Dart Convertible
How she got it: "I grew up around cars," says Roland, who'd been saving up for a car since she was 10. At 13, she had enough to buy it and worked with her dad last summer to get it up and running. "I pretty much got this car because I wanted to have a project car with my dad. Kind of like father and daughter bonding time."
Fixer upper: They repaired the rear end, brakes, master cylinder, manifold gasket, door handles, lights and the electronic ignition. "It was a lot of work but it was worth it," she says. "If my car ever breaks down I know what to do."
Favorite thing: "The feeling of it. I like hearing the exhaust making the big roar sound. I love the sound."
-Finn Hawley-Blue
Jacob Andrews, 18
Year: senior
Model: 1996 Ford Thunderbird
How he got it: Andrews went to an auction and saw the same car that his friend had. He knew right away that he had to buy it.
Coming up with the cash: "I had the money by painting and working with my dad. I work with College Pro painting houses."
Best thing about the car: "It's fast. It's cheap. It's reliable."
What the parents think: "I think they're proud of like my hard work. I think they're proud that I'm stepping into independence. I don't have to depend on my parents to give me a ride and that was probably the biggest factor in buying a car."
-Cassius Pettit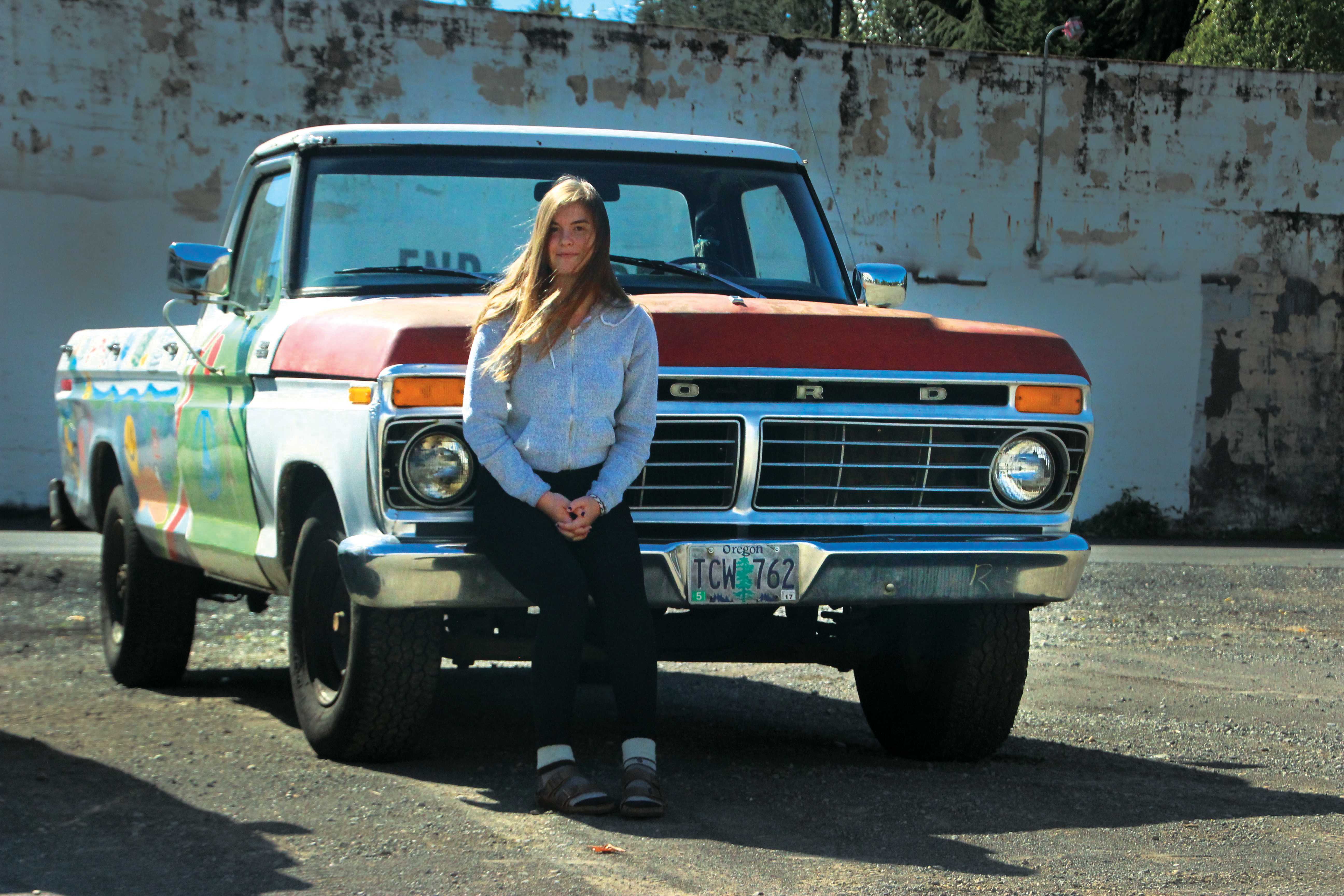 Ellie Corser, 17
Year: senior
Model: 1977 Ford F-250
How she got the look: Corser turned 11 and had a birthday party. Her dad let her and her friends paint it. "I am still friends with everyone who painted it. There is really no theme. There is a lot of fruit on there and there are just some smiley faces and there's some swirls."
The red hood: "Once I was just waiting at a red light and there was this lady in front of me and she just backed right into me. So now there is a red hood on it and a new shiny bumper."
Driving difficulty: The pickup has a stick shift and it's been hard to adjust to for Corser. "It's more of a novelty car if anything… it has character. I like it. Without the paint, it would just be an old rattly truck. You gotta have something redeeming about it."
-Finn Hawley-Blue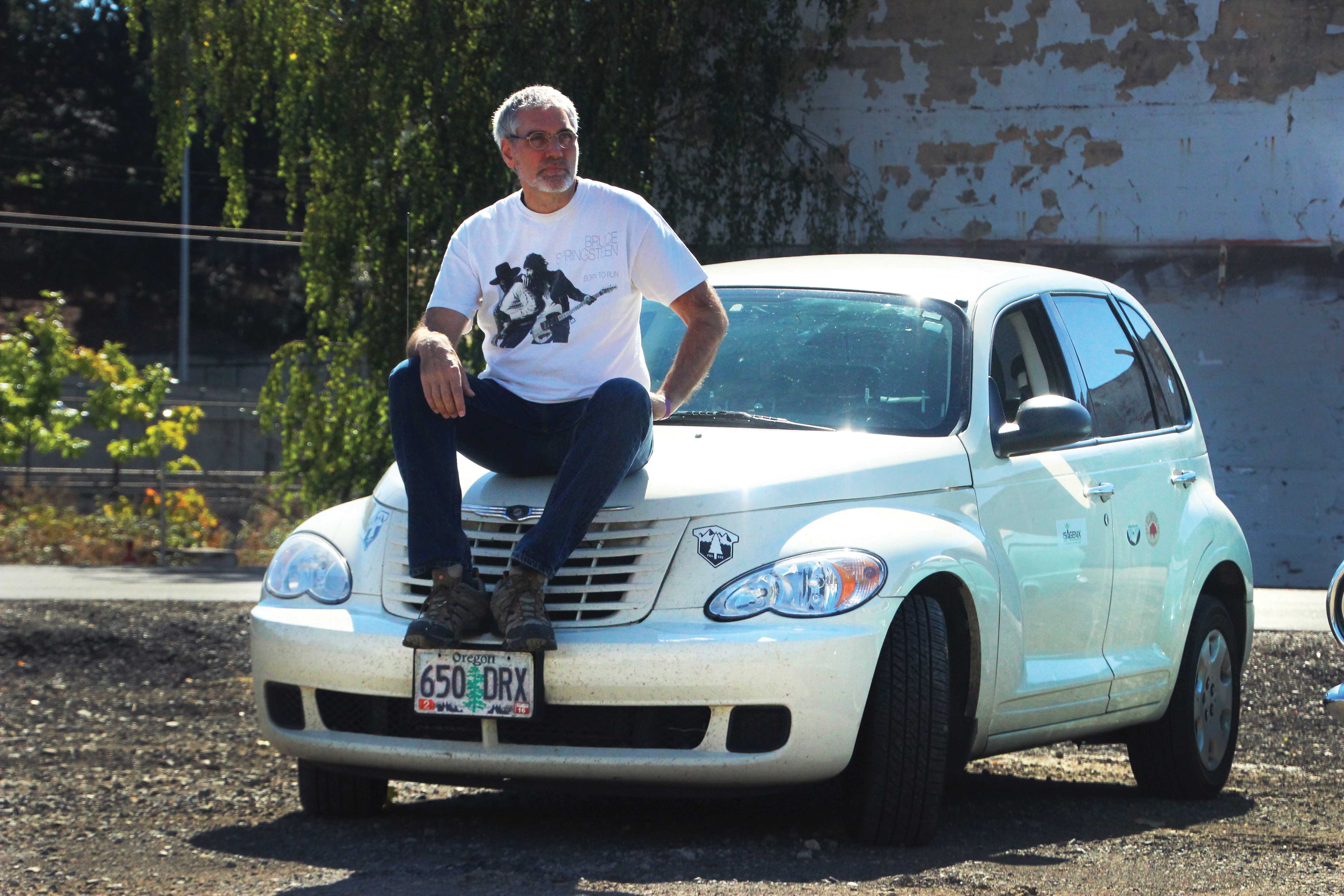 Richard Meadows, 52
Job: Language Arts teacher
Model: 2008 Chrysler PT Cruiser
The need to cruise: "Two summers in a row, I had rented a PT Cruiser and I really found that I liked them. I liked the feel. I liked the old time look." He spotted one on Northeast Sandy Boulevard and decided "it was time for a switch."
Stuck on stickers: Meadows has been collecting them since he visited his brother-in-law in Bear Valley, Calif. in 2011. "We drove the car in spring and hit a spring blizzard. So we put the chains on it, and as we were driving up to get to his house, all of a sudden I saw one of the chains just go 'PTING' and fly over our heads." He moved to the side of the road and waited for help. Since then, Meadows has been adding stickers from each new place he travels.
-Cassius Pettit
Sawyer Medlin, 16
Year: junior
Model: 1978 Volkswagen Bus
How he got it: Passed down to him when his dad bought a new car.
The reaction he gets: "People just seem to be interested. Especially when people come inside, they're like: 'You have a sink in there? Does it work?' (It doesn't). It doesn't even have power steering. I can't really parallel park in it. It's hard to turn and there's no heat."
Memorable moment: "I was driving down U.S. Grant during the summer from a baseball game and my door just started to open." He stopped the car and went to investigate. "It just fell into my arms."
-Cassius Pettit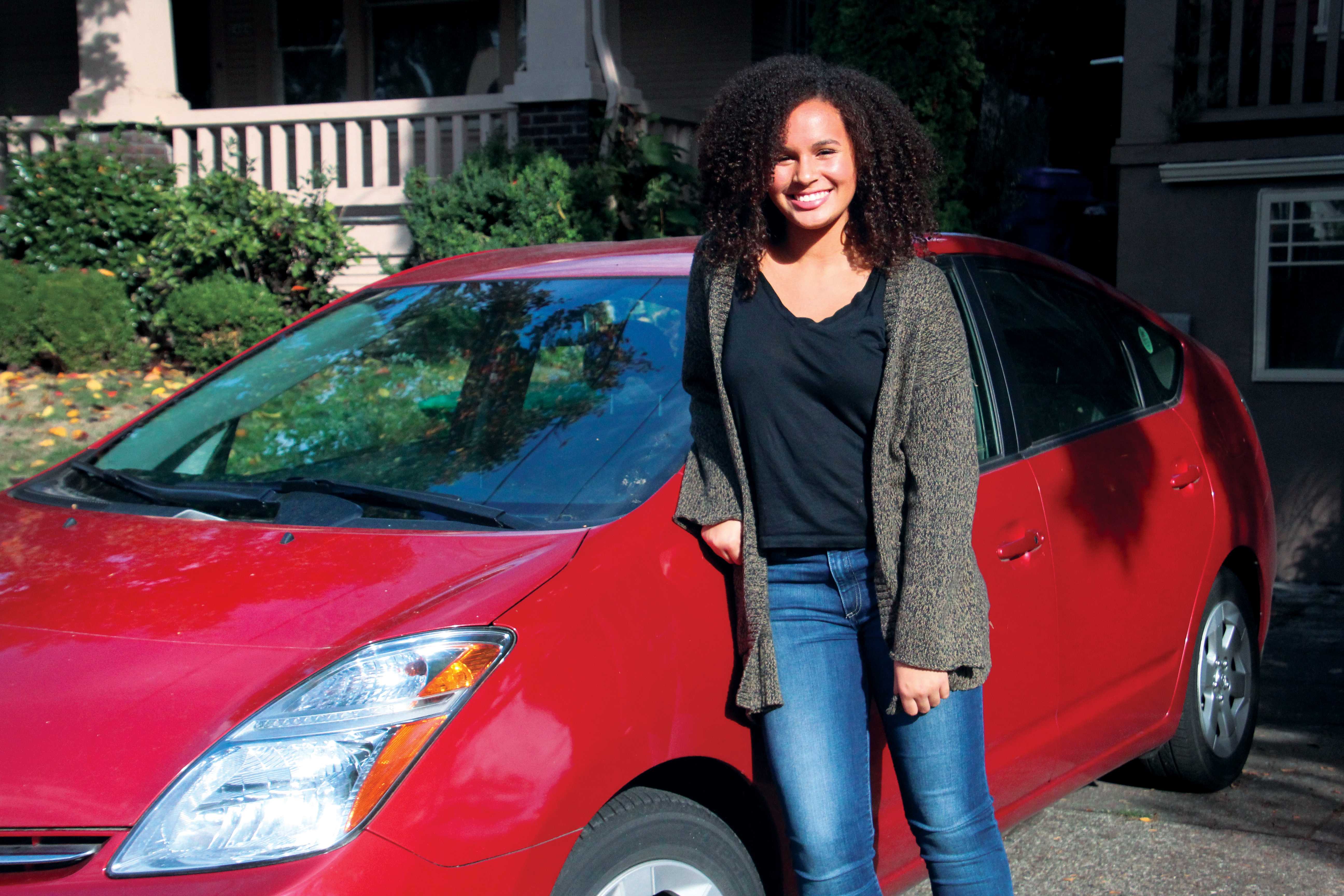 Olivia Wolfe, 17
Year: senior
Model: 2008 Toyota Prius
How she got it: "It was originally my mom's car, but then when I got my license she was like: 'Oh, you need a car to drive.'" She uses the car to drive to school, work and to hang out with her friends. "I drive everywhere."
Freedom for mom: "My mom loves that I can drive myself places, so she doesn't have to chauffeur me around."
Role playing: Most of Wolfe's friends have licenses but not cars, so she's the one usually behind the wheel. "I'm kind of the 'driver' of my friend group. I actually hate driving. I'd rather be the passenger."
-Finn Hawley-Blue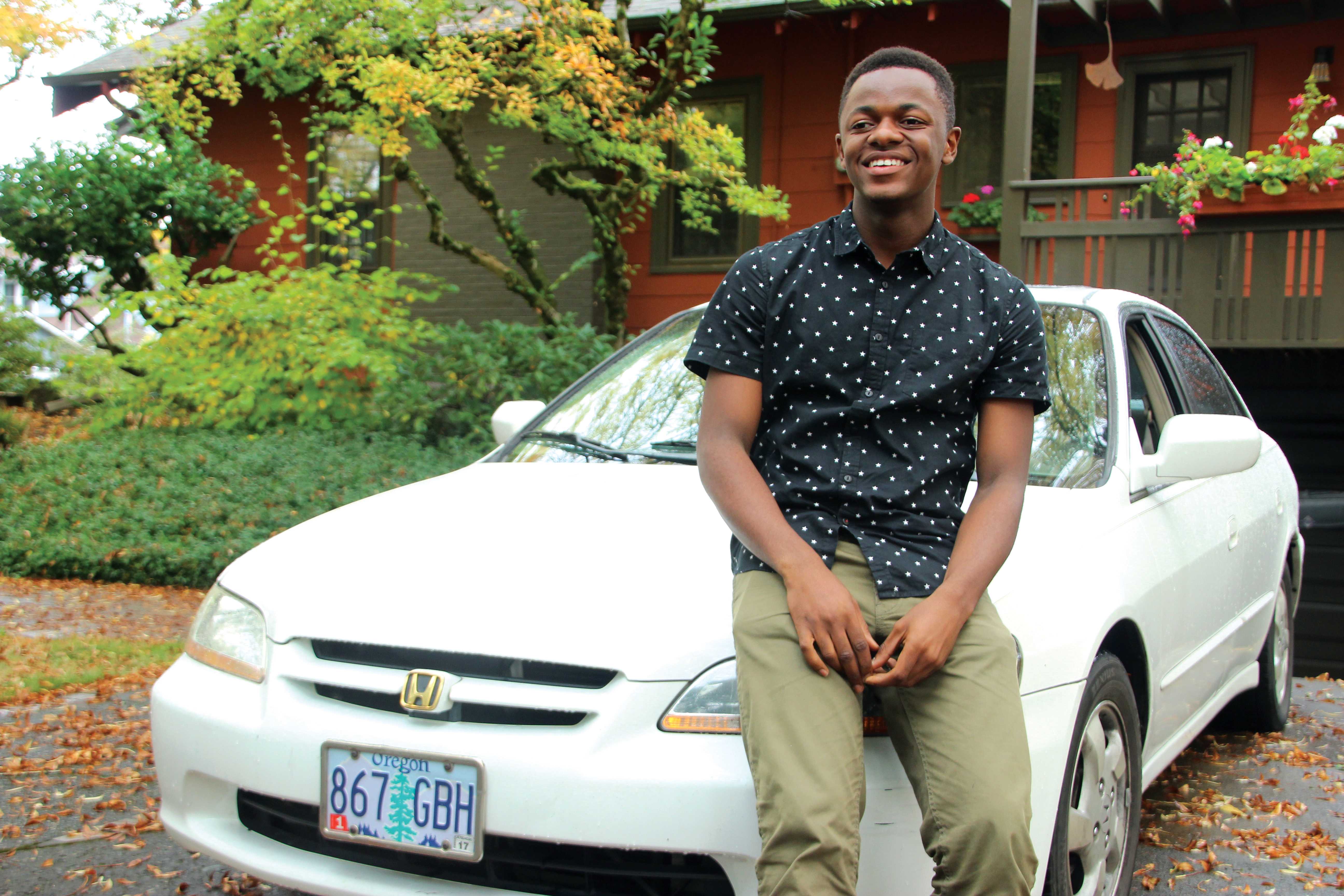 Mathias Thelus, 18
Year: senior
Model: 1999 Honda Accord
How he got it: Thelus' mom always knew he was responsible, so when the time came she wasn't reluctant to give him a car. "My mom was just like: 'Here you go. I trust you.'"
What he uses it for: Mostly for transportation to school and work and to have freedom. "I feel relaxed when I'm in my car. I listen to music a lot."
In the future: He toyed with the idea of either modifying or selling the car but decided against it. "The car means so much to me 'cause I put so many miles on it, like I just don't wanna give it away."
-Cassius Pettit