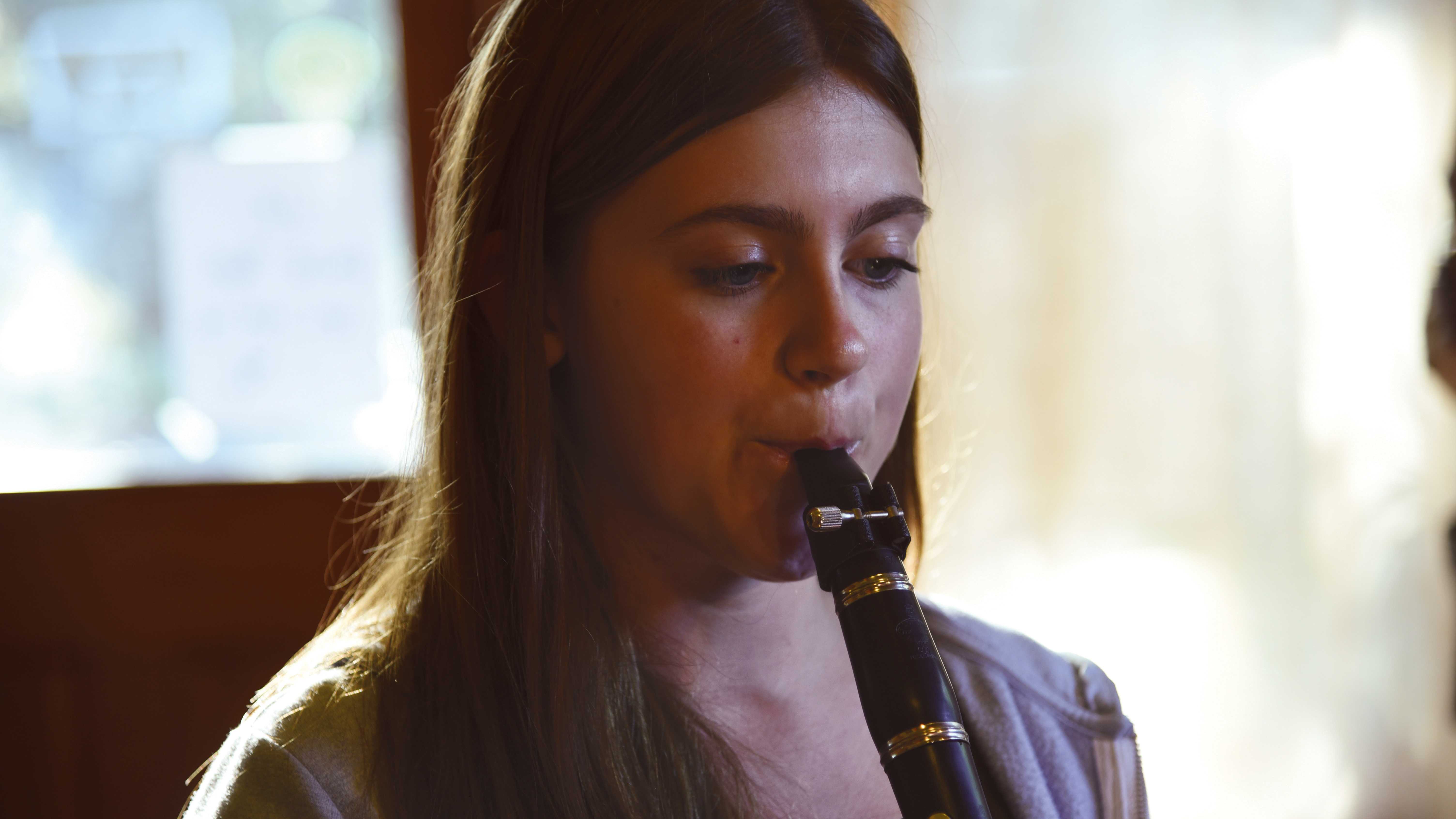 "Honestly the tone of the clarinet is the best sound if it's played correctly... Specifically the sound of the clarinet is what made me want to continue playing clarinet, at least in 5th grade. I mean I wouldn't wanna play if I didn't like the sound of the instrument."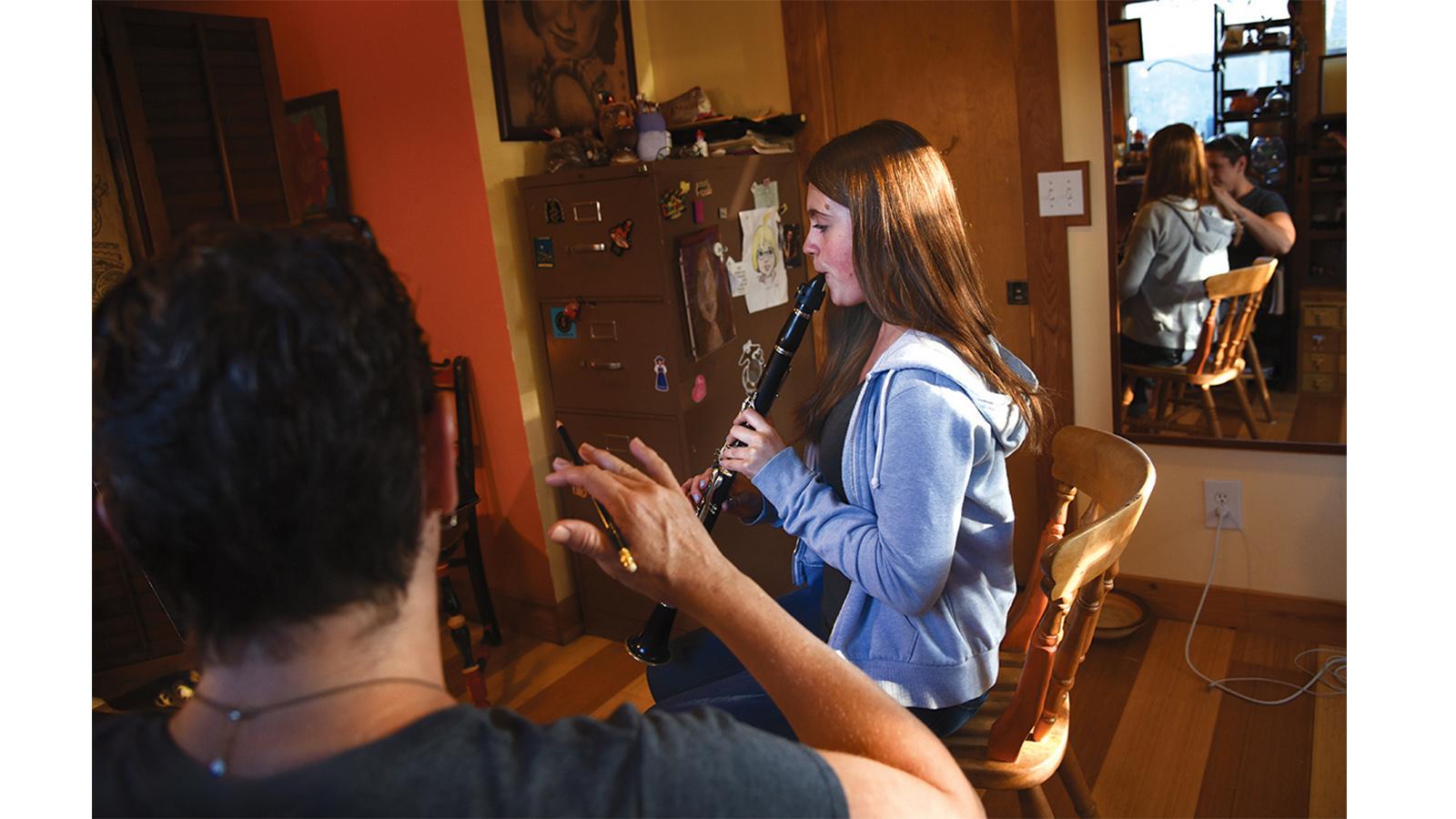 "It's not just for athletes to take care of their bodies...I know teachers who don't think it's their responsibility at all so they just don't care," says Geoffroy's clarinet instructor, Dunja Marcum. "But they have to start caring. It just has to become part of the conversation."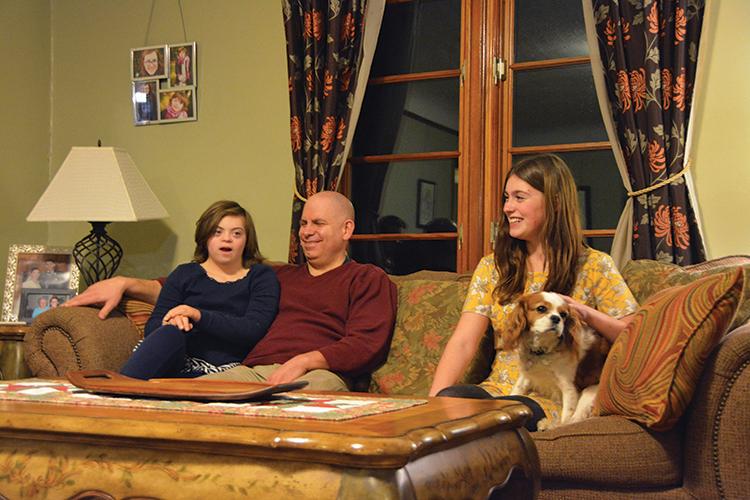 "It's not just for athletes to take care of their bodies...I know teachers who don't think it's their responsibility at all so they just don't care," says Geoffroy's clarinet instructor, Dunja Marcum. "But they have to start caring. It just has to become part of the conversation."
On most days, Emily Geoffroy wakes up feeling exhausted. She's nauseous, and her head is throbbing. She sits up slowly, letting the spots clear from her vision before slowly walking out of her room. Geoffroy's mom notices that, once again, she looks pale.
As she gets ready for school, the Grant High School junior tenses her body every time she hears a noise. Something as simple as the radio playing loud makes her temples pulse. By the time she gets to her first class, she's already exhausted and feels like she never slept.
This morning routine has become normal for Geoffroy, who suffers from chronic nerve compressions. The culprit of her symptoms? The clarinet that she plays everyday – both in band and after school. The repetitive nature of pressing the keys on her instrument has led to the condition.
"It was just really confusing and pretty helpless because when you have a constant headache, it's hard to focus on schoolwork," she says. "That made going to school like 10 times worse."
Geoffroy, 16, isn't alone. While there are little to no statistics about music injuries, band teachers and physical therapists say they've seen an increase of musicians suffering from overuse injuries. That's especially the case in the highly competitive world of jazz and orchestral music.
For Geoffroy, the injury hasn't stopped her from dreaming big.
Since she was 14, there's been no question about her wishes for the future – she aspired to join an orchestra as a clarinetist. However, because of her injury this year, her plans aren't as clear. Her love of playing has caused her constant pain and forced her to participate in weekly physical therapy appointments.
With her chronic nerve compressions, headaches and soreness, the road to her dream job is becoming increasingly problematic. She's not giving up just yet, but the road has been difficult.
"I just need to play. I love practicing … just hearing the actual sound of the instrument," she says. "Even if it's not practicing, and you're just listening to it, like just once, it makes me want to sound like that and improve."
Born on October 31, 2000, in Framingham, Massachusetts, Geoffroy was an outgoing, happy and confident kid, her parents say. A short time later, they moved to New Jersey.
Her parents made sure music had an influence on her life. In college, the two were avid musicians who played the trumpet and clarinet. As soon as Geoffroy was able to play, her parents were driven to get her into music. She started piano lessons at age 6.
"My mom had to beg me to practice … I just remember not focusing at all in my lessons," says Geoffroy, who recalls her teacher bribing her with toys to practice her piano scales.
A few years later, the family moved to Woodbridge, New Jersey because they thought the schools would be better. Through the strings program at her elementary school, she picked up the viola. "It wasn't anything like I thought it would be," says Geoffroy. "Beginning strings sounded like dying cats."
When Geoffroy was in fifth grade, her family moved to Portland, and she attended Alameda Elementary School. That's when she picked up a clarinet for the first time. She was in the Alameda band class a week after her first day and says the instrument came to her, instinctively.
"It was different because you actually use an air stream," she recalls. "I think I just picked it up much more naturally. I wasn't naturally good, but I could naturally make a sound."
In middle school, Geoffroy's musical career took off as she joined Beaumont Middle School's advanced jazz band. By eighth grade, she had begun working with a private coach, practicing nearly 90 minutes a day.
Dunja Marcum, her clarinet coach, says she was taken aback by her skill. "I definitely was impressed immediately with her musicianship," says Marcum. "She's done nothing but improve. Definitely in the top five percent of students I've ever had."
As a freshman at Grant, Geoffroy played with the wind ensemble band, pit orchestra, jazz ensemble and pep band. That year, she was one of four students from school who went to the All-State competition at the University of Oregon. She also began playing in the concert orchestra and symphonic band at Portland's Metropolitan Youth Symphony.
In January of her sophomore year, Geoffroy went to the All-State competition again, representing Grant with a group of nine musicians. "That was like 20 hours in one weekend of playing," she recalls. "So that was really intense."
When she got back, she noticed her thumbs were sore and had started throbbing. She ignored it, and soon, it went away.
But two months later, while playing in the pit orchestra for Grant's production of  "The Little Mermaid," Geoffroy noticed the pain coming back. Her arms and hands were sore – it felt like needles were poking her. Her shoulders and back had a deep ache, and her head was constantly throbbing.
But she pushed through it, playing bass clarinet, alto saxophone, soprano saxophone and clarinet for the musical. "That was up to five or six hours of playing every day for the two weeks leading up to the musical," she says now. "So then it kind of just started growing up my arms, going up my bicep."
The pain made it hard for Geoffroy to perform. "You could see it in her face, you could see it when she had to lift her clarinet," says her mother, Amy Geoffroy. "It was impossible to ignore."
A week after the pain had gotten severe, she and her mother went to the doctor and got a diagnosis of tendonitis. She started frequently visiting the doctor and made appointments with chiropractors and physical therapists. She wore braces and went through a rotation of different prescriptions to help with the pain.
"By the time Emily was going to the doctor, it was far past a manageable point," says Marcum.
Marcum sporadically had injured students in her classes when she started coaching. But these days, she sees it more frequently. In addition to Geoffroy, she currently has four other students who have sustained injuries from playing too much. Marcum, who is also a personal trainer and strength coach, blames the increase of injuries on people constantly looking down at their phones or computers.
"Our lifestyle is much more sedentary … We're rolling our shoulders forward to do all the things in front of us, like texting, computers, and looking down just contributes to it," she says. "I do see it more, and I expect to continue to see it more. It's no longer an anomaly. I can pretty much count on a number of kids dealing with it at one time."
"April and May were definitely the lowest points," says Geoffroy. She missed several days of school because of the severity of the pain. She also has suffered from nausea and dizziness, which causes her to have a lack of appetite. So far, she's lost nine pounds.
"I don't think there's anything more painful for a parent than to see a child suffer," says her dad, Kevin Geoffroy. "Especially when you don't know what you can do to make it better."
Grant band teacher Brian McFadden could see the frustration in Geoffroy. During the spring when she could play, she alternated between playing and resting in five-minute increments.
McFadden stresses the importance of relaxing and not rushing the healing process. "I don't think a lot of people think, 'Oh musicians are gonna get injured'" he says. "Problems can arise and some musicians aren't aware of it either."
As Geoffroy's pain developed, the demands from pit orchestra at school started picking up. "The Little Mermaid" was in full swing at the time, and the performers needed to be practicing their parts. On one of the performance days, Geoffroy went to her chiropractor. The doctor tested her blood pressure. It was low, but Geoffroy said she felt fine.
But toward the end of the appointment, as her chiropractor was doing nerve stimulation, her headache more than tripled in pain, and she started seeing black spots everywhere in her vision. The next thing she remembers is waking up on the floor. Geoffroy suspects she lost consciousness from eating too little because of nausea.
Later that day, she was shaken and nervous to play in the performance. "I was so scared that I was going to pass out during the performance. Because I didn't feel any better," she says. Despite her condition, Geoffroy played anyway.
Once "The Little Mermaid" was over, Geoffroy started to wind down and limit playing time to help her body heal. But the pain in her arms, shoulders, back and head would not go away. She went back to the doctor to get looked at again. Doctors discovered that she was struggling with nerve compressions – pinched nerves due to excessive pressure on the nerve.
Eleanor Golden, a sophomore at Grant, has suffered from a similar injury. As an oboe and alto saxophone player and taiko drummer, she has been in the music world for many years. During the spring of 2016, she was diagnosed with an overuse injury, suffering from symptoms of tendonitis.
Golden's injury was not as severe as Geoffroy's, but she still suffered from sharp pains in her forearm and from her wrist to her thumb. The brace she wore and some strengthening exercises helped her through the pain of everyday things like holding cups or pencils.
"Music is tough, and especially if you practice a lot, then you can overuse certain parts of your body," says Golden. "I feel like people are more aware of athletic injuries and how to prevent those rather than injuries that you can get from less athletic things."
Geoffroy agrees, as she remembers people either not believing her or being confused when she told them she was injured from playing music. "I definitely think that there's also a big stigma that music injuries aren't really a thing," she says. "I've definitely had neighbors who were like, 'You should just suck it up.' A couple of my neighbors were like, 'Oh, I didn't know you were going through that, like I didn't know that was even possible.'"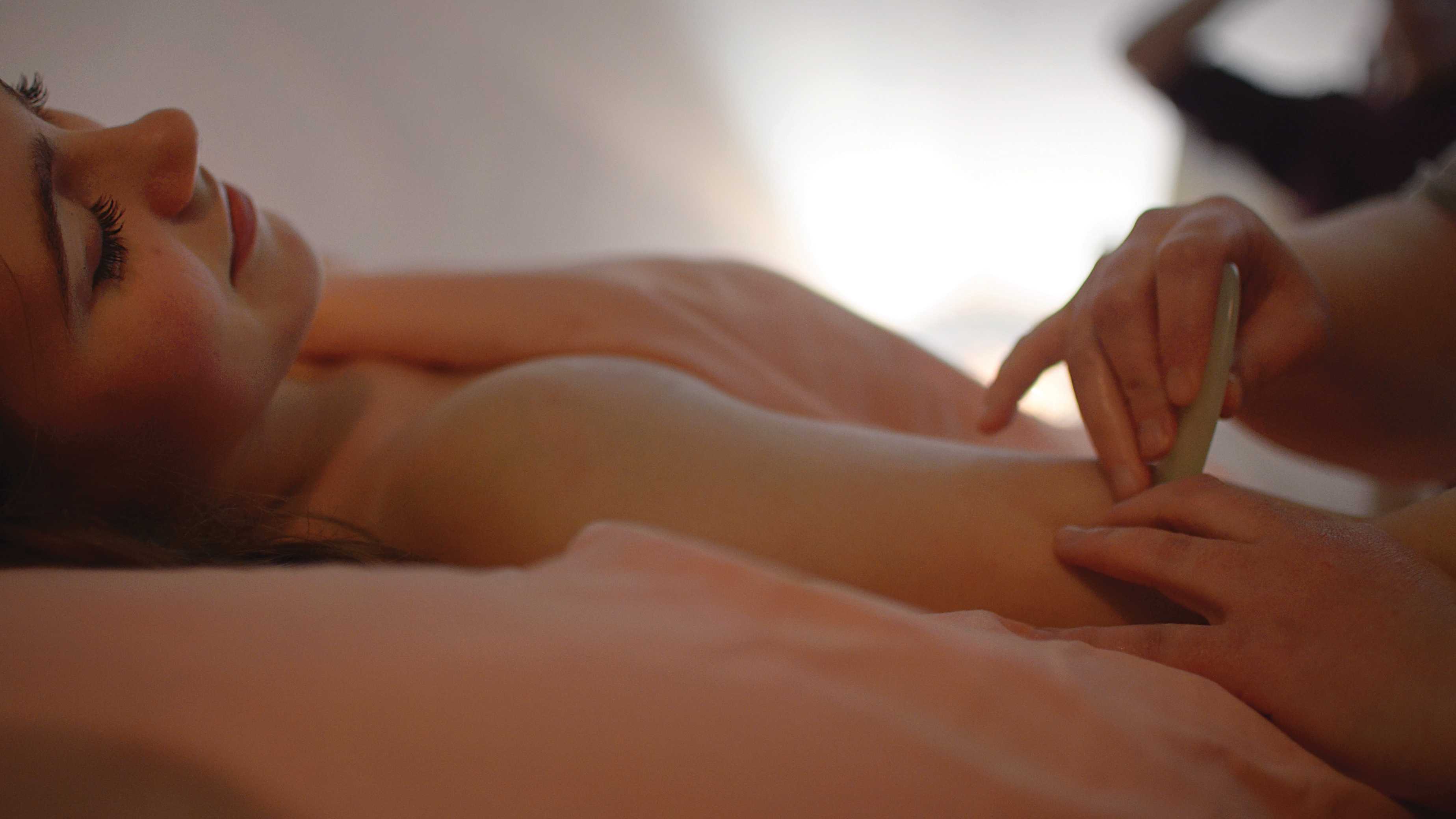 At the start of her junior year, she stopped seeing her physical therapist. But she continued to visit her massage therapist, and work on exercises at home.
Marcum was sympathetic to Geoffroy's condition, in part because Marcum's own chances at a professional career in music were cut short because of an overuse injury that she failed to treat. "I mean my whole life – where I am now – changed when I had my injury, so it had a pretty profound impact," she says.
As a junior music major at University of Oregon, Marcum practiced clarinet and tenor saxophone five to seven hours each day. She started feeling pain and then numbness in her arms. "I thought I was going to be in a major symphony, and that got derailed … It took me years and years before I would finally figure out how to deal with it," says Marcum.
Because of unsuccessful healing, Marcum occasionally suffers from the same pain she had in college. "I just did a gig in Pendleton where we had five hours of rehearsal a day," she says. "I had to just be really careful that I did some stretching in my breaks – foam rolling, walk around, do my shoulder stretches," she says.
Marcum has told Geoffroy of her own past with music injuries but also encouraged her to stay hopeful. Today, Geoffroy is starting to see improvements in her physical condition. Her body isn't constantly tense, and she is learning to ignore her headaches. She still wears her wrist brace to ease the pain of her nerve compressions.
After she graduates, Geoffroy is looking to study music in college. "This is what I want to do with my life," she says. Her plan is to double major in music performance and music education, but her ultimate goal is to play in a major symphony.
The idea of getting a spot in a symphony, Geoffroy's ultimate dream, is still a reach. "If I'm gonna be in constant pain, it's not gonna be worth it," she says. "By now my arm pain is to the point where if I felt this my entire life, if I got my headaches under control, then it would be fine. Annoying but fine. But it's definitely scary that I'm thinking this strongly about it."
Moving forward, she hopes others can recognize that the dedication required to be a full-fledged musician takes more than just a time commitment. It can be a risk to someone's health. Others agree.
"I think it needs to be genuinely accepted that music is athleticism," says Marcum. "When you're playing a musical instrument and all those years of training, that is utilizing muscles and ligaments and joints just as much as a sport. I think that has to be conveyed to the students. We can't just wait until students are injured to start the conversation." ◆