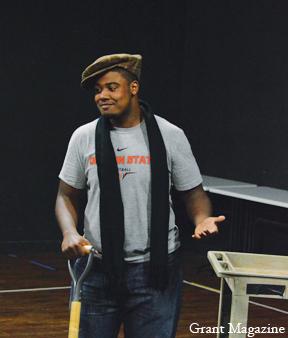 As jazz music flows from the dance studio speakers, Grant High School senior Nate Golden snaps his fingers, swaying energetically to the beat. He grins as he throws himself into the movements next to two other actors.
Offstage, senior Javon Carter taps his foot and smiles as he reviews his lines, unable to keep still as he watches the dancing actors.
It's just another rehearsal for the Oregon Children's Theater cast. But for Golden and Carter, this is a new level of performance. The two Grant seniors each landed their first professional theater roles this year as they were recruited this summer for the musical Magic Tree House: A Night in New Orleans, which premieres Oct. 19.
The friends share a late-blooming talent for acting and are considering theater for future careers. But they both hope to focus on different aspects of performing arts.
Dancing comes first for Golden, who is 17. It's a way of life. Almost exclusively self-taught, Golden loves the expressiveness of dance and follows his instincts as he freestyles. "I feel like dance is the most expressive form of art," he says. "It doesn't need words. It's just moving."
For Carter, 17, singing is the priority, as it's something he's been doing most of his life. Appreciative of music of all types, Carter surrounds himself with it through choir, musicals and his ever-present headphones. On his connection to Golden, he says simply: "We're brothers."
Born and raised in Northeast Portland as an only child to parents Nyla and Ricky Carter, Carter was content without siblings. That's because he grew up with two of his cousins instead.
He was raised in a family where everyone sang or played an instrument or both, so Carter says it was inevitable that he would be musically inclined. "It's kind of like I have no choice. But I love it, so it's fine," he says with a laugh.
"I've been singing pretty much as long as I can remember," Carter says. He recalls how his preschool teacher often encouraged him to continue singing, and come kindergarten he joined the King School choir.
In the summer after first grade, Carter went to a church camp and met Golden. They formed a casual friendship, spending their days together. Every summer after that, they reunited at the camp after months without contact. They had fun times hanging out – including occasionally competing for girls' attention: they remember one girl took notice of Golden's dancing and Carter's singing.
It wasn't until fourth grade that Carter recognized his gift for what it was.
His choir teacher urged him to enter a national anthem singing contest, called "Oh Say Can You Sing." He auditioned and figured that was the end of it. Instead, a few months later he was shocked to find a voicemail congratulating him for his state win. "They say that I beat out some high school students and a few college students," Carter recalls.
To this day, Carter is sick of the song.
But the experience helped him realize that his singing talent was something special. He used to be self-conscious about it. Carter recalls: "My mom was always trying to have me sing in front of people when I was young."
It embarrassed him. Nyla Carter says she made him sing in front of people "so they can hear what I hear." To get Carter used to performing. It worked because when she tells him to sing today, he does.
Rickey Carter says their church further inspired his son's love for music. Today, they both sing with the praise team every Sunday.
Singing is what got him into Grant. Jefferson is his neighborhood school, but it lacked a choir program. Carter wasn't accepted as a transfer student at first, but after he performed before Grant's choir director of the time, a place was found for him.
Today, Carter sings in the hallways of school. After taking Grant's Voices songwriting class, he likes to write his own music, creating both lyrical and instrumental pieces. But these days, Carter doesn't have much time to spare on songwriting.
In his last year at Grant, Carter is juggling several time-heavy commitments: on top of his school course load, he's a starting defensive tackle on Grant's football team, and he practices and performs with the Royal Blues. And, of course, there's the matter of his professional theater performance.
With practices scheduled every day for his various commitments, Carter doesn't get a break. Still, he says it's worth it.
As a freshman, Carter hadn't known many people. So he was pleasantly surprised when the familiar face in the midst of his PE class turned out to belong to Nate Golden, whom he hadn't seen in two years.
"We kind of picked up where we left off," Carter remembers. "It's just taken off from there."
Golden grew up in Northeast Portland with five siblings and parents Stacey and Lee Golden. From an early age, he knew he loved to dance, but Golden doesn't remember ever seriously considering dancing classes. He was content to dance around the house, making up his own moves.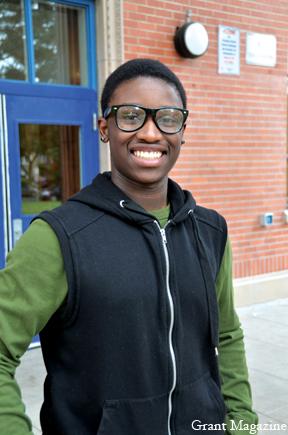 He performed dance routines in some middle school talent shows and even attempted to teach informal after-school dance classes to younger kids, but that didn't go too well.
Golden almost didn't make it into Grant. Technically in the Jefferson district, he lives maybe a block away from the district line. It's a 45-minute commute to Jefferson compared to five minutes to get to Grant. "I felt like Grant would be a better school, a better choice for me," Golden says. "There's a lot of people I love" and classes that fit him better, including a choir. His mom brought his case to the district, pointing out that Golden's older siblings had attended Grant, and he made it in.
Not only does Golden dance, act and sing, he also writes his own music and plays multiple instruments. Just like he taught himself to dance, he taught himself to play the piano and guitar from looking at posters and watching YouTube videos. "It feels better to teach myself," he says. "I can say I taught myself how to do that."
One year, he wrote his mom a song for Mother's Day. "He sits there for hours playing the piano," Stacey Golden says. After he got a guitar for Christmas one year, she remembers hearing a song playing from downstairs and thinking it was the radio. When she went down, she was surprised to discover it was actually her son playing.
Golden spends his free eighth period with headphones in, dancing in the choir room. He recognizes that he needs formal classes. "I'll think of choreography in my head and half the time it's stuff I can't do," he says.
He hungers to learn more.
He only recently started taking dancing more seriously. He took contemporary dance classes from Northwest Dance Project. Contemporary is much different than what he's used to: it's much more restrictive than his usual freestyling.
Golden regrets not taking any dance classes when he was younger. Today, his lack of formal training is a disadvantage in his classes. "I feel like it will make it harder and other people will be more advanced than me," he says.
Though he may not have danced much when he was younger, in high school Golden began to make up for his late start. "That's when I started dancing everywhere," he says. "Now I dance when I'm waiting for the bus."
Golden is currently taking the hip hop dance class offered at Grant this year.
As for acting, Golden wasn't seriously involved before Grant's production of Hairspray. In middle school, he had a few roles in plays. When Grant's production of Hairspray began, Golden planned to audition for a dancing role. But director and theater teacher Chris Lane convinced him to try for a larger position. He was cast in a leading role.
Performing in Hairspray opened up Golden's world. Singing, acting and dancing on stage with such a large audience helped boost his confidence in all three talents. He was always nervous at the beginning of shows, but after about two minutes onstage he forgot all about being nervous. The choreography helped because there was a set routine to rely on. "You can't really see the audience anyways," he says.
He's always surprised when people approach him with compliments. One day, he was going home after a performance and a group of 5-year-old girls recognized him as Seaweed, calling out, "Oh my gosh, it's Seaweed!" Golden recalls the moment: "It was so cool. It was so cute."
The recognition makes him want to keep acting and go back onstage.
He auditioned for The Wiz the following year and landed the role of the scarecrow. "Nate is a gifted dancer. His body and his movement convey so much character," says director Lane. "You just kind of catch yourself as a director just enjoying it." He adds: "There was a lot of growth (in Golden) from Hairspray to The Wiz."
The Wiz was also a  huge learning experience for Carter. He was cast as the lion. Lane remembers seeing something special in Carter during The Wiz auditions. "Javon is a real natural," Lane says. "There's something that's hard to teach that people have sometimes," and Carter has that something, Lane says.
Working together on The Wiz was something Carter and Golden had never experienced together. "They're friends, so there's an established rapport because of that," says Lane.
Their tight bond had a downside – they were easily distracted during rehearsals, making each other laugh – but getting back on task wasn't a problem for them. Carter helped Golden with his singing parts, and Golden helped Carter with his dancing parts. It worked out well.
Beyond helping Golden and Carter gain confidence as performers, The Wiz also snagged them professional acting roles. The Oregon Children's Theater sent a choreographer to watch Grant's production of The Wiz, looking for actors for their upcoming show Magic Tree House: A Night in New Orleans. After the choreographer's glowing review, Stan Foote, Oregon Children 's Theater artistic director, sought out Golden and Carter. He helped them through the auditioning process, which was more complex than trying out for a school play. They both made the final cut.
In the musical, time-traveling siblings Jack and Annie are sent to 1915 New Orleans, tasked with convincing a 14-year-old Louis Armstrong that he will eventually become the "King of Jazz." Carter plays Armstrong and Golden plays a storyteller named Happy.
"Two good friends just having fun, doing what they like to do, love to do, and just perform," Carter says. "It's fun when you can share that with a friend."
Golden says they feed off each other's energy. "It's so much fun," he adds.
Director Foote praises their professionalism. "They sort of coach each other," he says, "which is really interesting."
"Javon has a golden voice and Nate can move like crazy." -Stan Foote, Oregon Children's Theater Artistic Director
After Grant, Golden thinks he might attend PCC for a couple years to get the basic classes out of the way and later transfer to a university. He wants to study music and criminal justice. "I'm one of those kids that said they wanted to be a cop as a kid and never grew out of it," he laughs, saying he's not sure where his interest in criminal justice came from. His goal is to move up to detective – but being a cop is a backup plan to a performing arts career.
"I have no idea how they'll fit together," says Golden. "They're two things that I'm interested in and two things that I think I can do."
He plans to audition for the dance competition TV show So You Think You Can Dance after taking a few years to study different dance styles.
Carter's dream schools are Clark Atlanta University and Vanderbilt University. "I want to go down South to, you know, get that kind of feel," he explains, looking for a change in environment. Their locations are also hot music spots, which is a definite plus. However, Carter is considering studying business and philosophy.
"Singing is definitely something I would love to do in the future," Carter says. His ultimate goal is to produce and write music. His plan for getting there? "I don't know yet," Carter admits. "I'll just perform wherever I'm at, try to get my name out." ♦