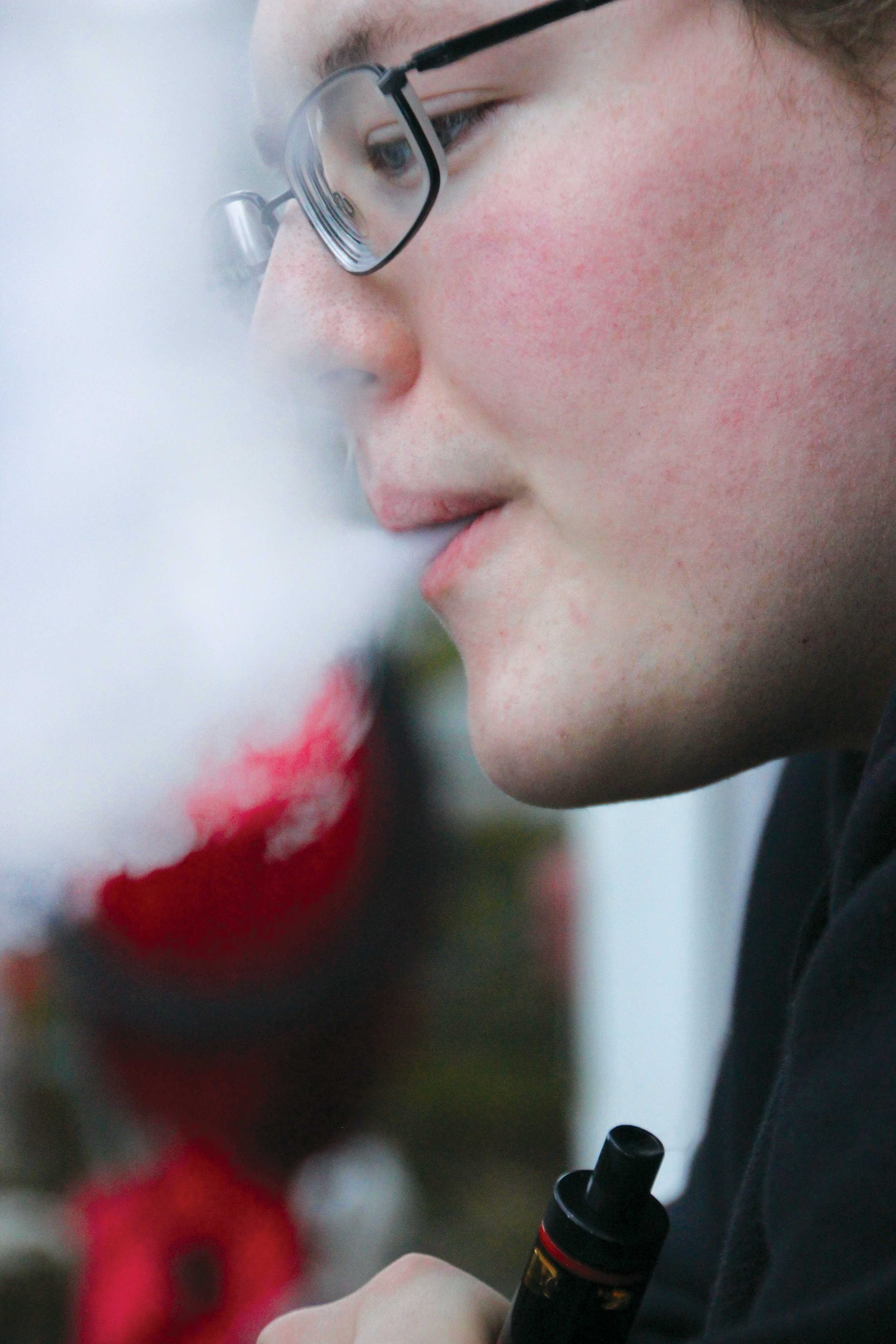 Howell's back porch has become one of their favorite places to vape and think.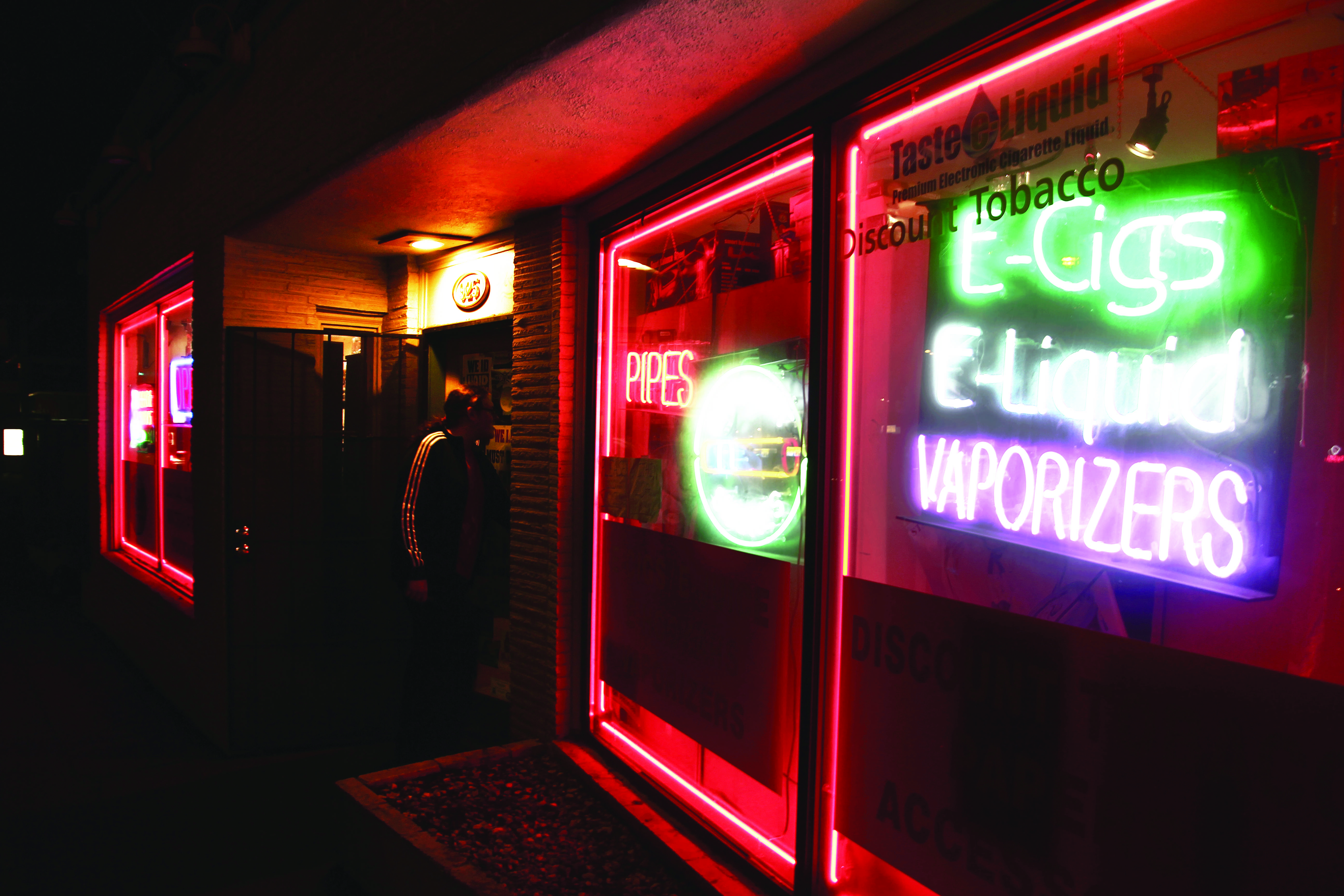 After their weekly paycheck, junior Silence Howell stops by a vape store to buy more e-liquid.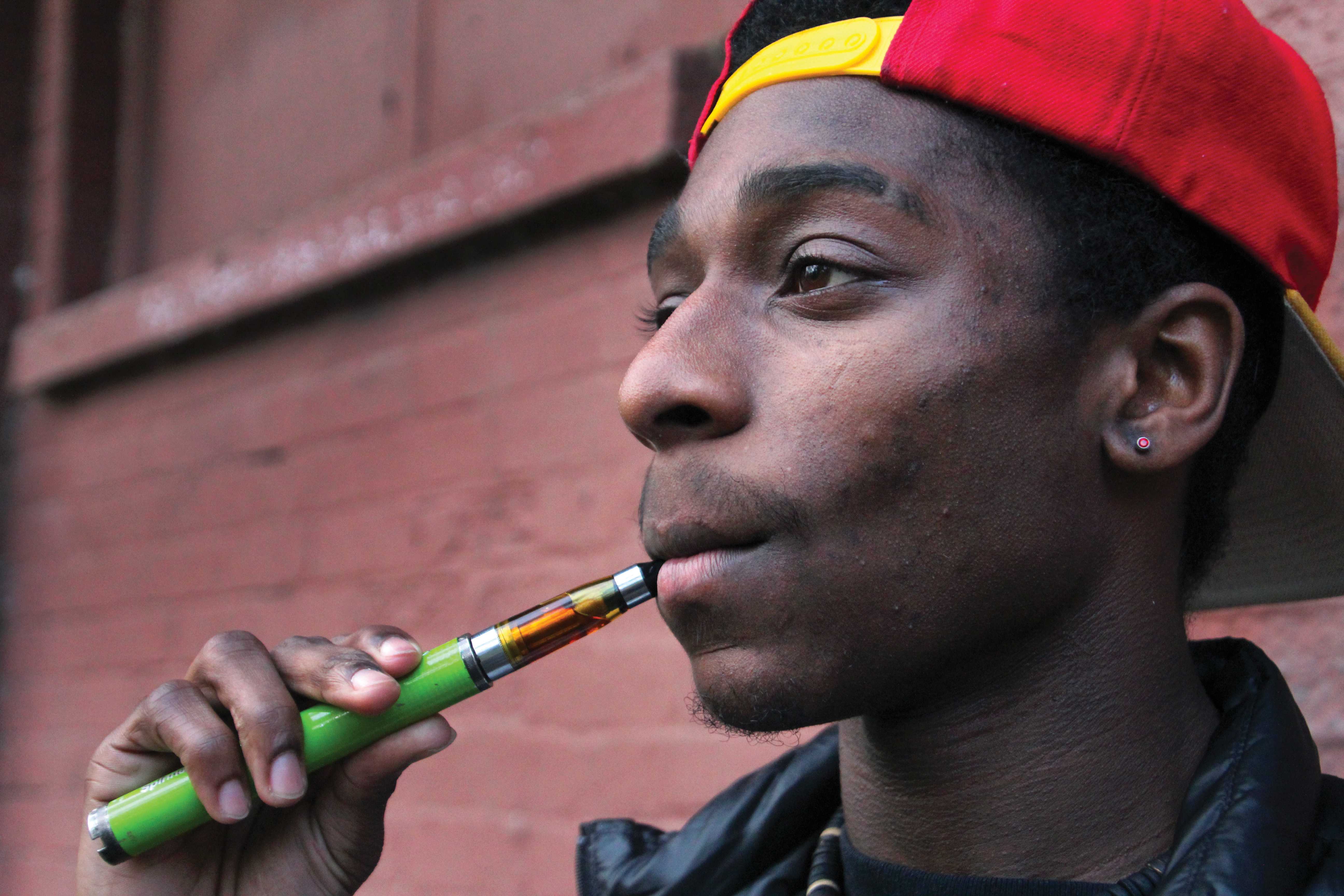 Senior Justin Robinson vapes every day. He says for him, vaping is a way to relax and socialize.
Vaping has become a national trend. From 2013 to 2014, the amount of high school students who used vape pens or e-cigarettes nearly tripled, going from 660,000 to 2 million.
With this increase, a drastic decrease of teen tobacco users has followed. But controversy around whether or not vaping is actually a healthier alternative to smoking cigarettes continues to rage among health experts and those who use the product.
Many experts are wary of the way vape pens and e-liquids are pushed on teens, concerned that the depiction of vaporizers and e-cigarettes in advertisements could actually promote addiction – especially among young users.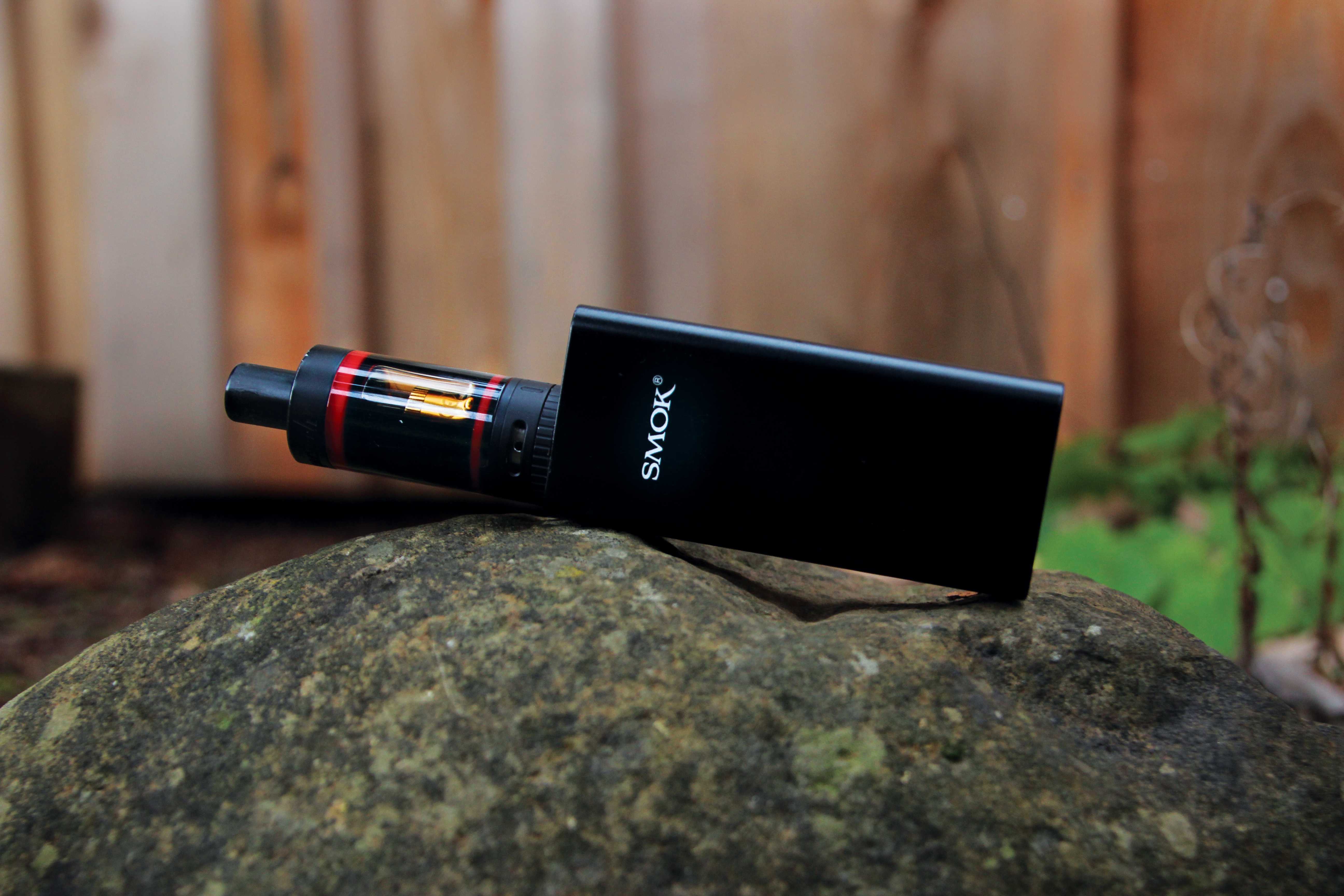 Multnomah County Deputy Health Officer Jennifer Vines is skeptical of the recent rise in popularity around vaping. She says: "I worry that things that seem fun and no big deal right now are actually setting people up for a life long problem with their health. Not just a shorter life, but a crummy life."
Still, some people who vape describe the process to be a step up from cigarettes. "When I smoked, it made me feel sick," says Silence Howell, a Grant High School junior who identifies as gender neutral and credits vaping with helping kick a tobacco addiction. "If I hadn't started vaping, I probably would still be smoking to this day."
Vaporizers were first developed in China in 2003, with the intention of preventing widespread tobacco usage. They were introduced to the United States three years later.
Despite the rapid increase of vape users, the Food and Drug Administration has neither approved nor condemned vaporizers to the general public. Minimal studies have been conducted regarding the possible health risks and benefits of vaping.
Thus, little is known about the contents of each e-liquid – the flavored substance that is heated in order to create the vapor – and the ingredients of e-liquids for vaporizers vary between manufacturers.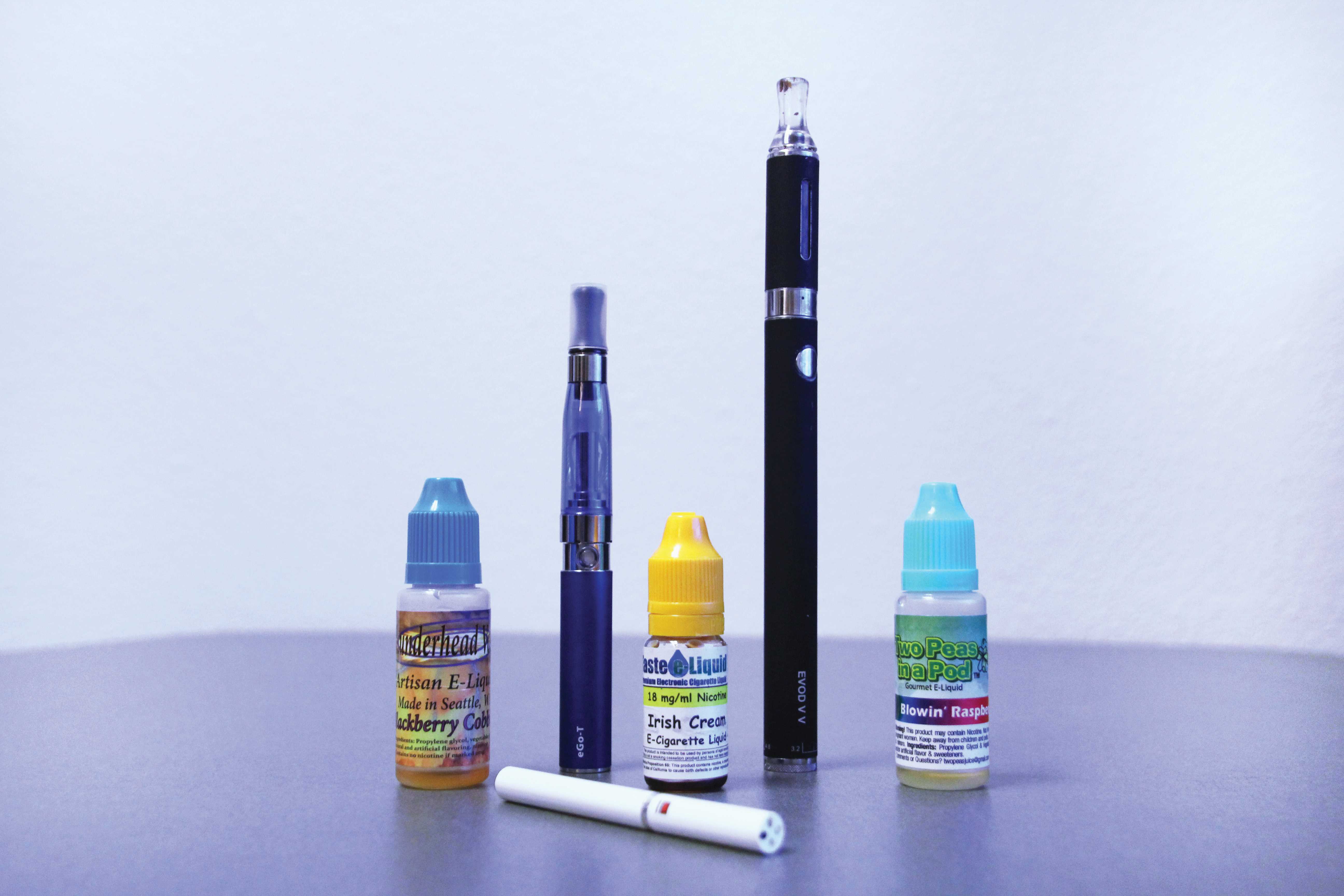 This concerns Vines. "We know a little bit about what else is in electronic cigarettes but it's completely unregulated," she says. "People have found traces of heavy metals. They've found carcinogens…because the industry's not regulated. If you just pull some e-liquids off the shelf and study them, you can't generalize that to all the other hundreds of e-liquids. Who knows what they have in them?"
In 2015, Multnomah County passed a law banning the sale of e-cigarettes and vape devices to minors, as well as the indoor use of vape devices in public places. Vines says this action applies a "precautionary principle" intending to limit usage until health safety is proven. "I don't think there's any evidence to suggest that it's OK for teenagers to use electronic cigarettes," she says.
New forms of vaporizers and e-liquid flavors are rapidly being created, and vape lounges and shops are becoming increasingly popular across the country. According to a vaping website called vapor4life.com, there are around 70 stores designated to vaping in each state in the country.
What's more, e-cigarette and vape companies are targeting kids, says Ruby Vise, a student leader of a local anti-tobacco and anti-vape group called "Rebels for a Cause."
"They'll make flavors like cotton candy or pumpkin or cake," says Vise, whose club is based at Madison High School in Northeast Portland. "They make those flavors to entice younger people. We are their replacement smokers."
As vaping continues to attract users of all ages, students at Grant High School are no exception. Health teacher Kianne Noakes recently structured a class lesson around the pros and cons of vaping because she's worried about the lack of education around the subject.
"I think a lot of young people don't realize that there are risks involved," she says.
This is not an understatement. For some students, vaping has simply become a new activity to pass the time with friends.
Senior Justin Robinson says he vapes for the social element. "I had been waiting to get one for so long," Robinson says of his first vape pen. "When I turned 18, that was going to be the first thing I would buy."
Still, like Howell, there are a handful of students who vape as a means of quitting tobacco.
Senior Karlos Perez began smoking cigarettes during his freshman year and quickly got hooked. He later turned to vaping. "Sometime last year, I started to vape for maybe a couple months and then the use started declining after that," he says. "And here I am now as a senior, not doing anything…I can breathe."
Perez knows vaping isn't for everybody. He believes people should only vape for the right reasons. "If you're using it for what it's intended for, I'm all for it," he says. "Otherwise, you shouldn't even touch it."
Robinson, who vapes almost every day, disagrees. He says that social media and advertising played a large role in sparking his interest. "Facebook, Instagram, Twitter and Snapchat. It's just been a thing that I see everywhere," Robinson says. "I don't really like advertisements, but…I fell for it."
The questions surrounding vaping continue to remain unanswered. Experts can't make solid claims because of the lack of factual evidence surrounding e-liquid ingredients and possible long-term health implications. Still, vaping will continue for Howell.
"There's a lot of things that I can honestly say I don't really know, because…they haven't been able to prove that it's a terrible thing yet," Howell says. "And maybe they never will because maybe it's not that bad." ◊